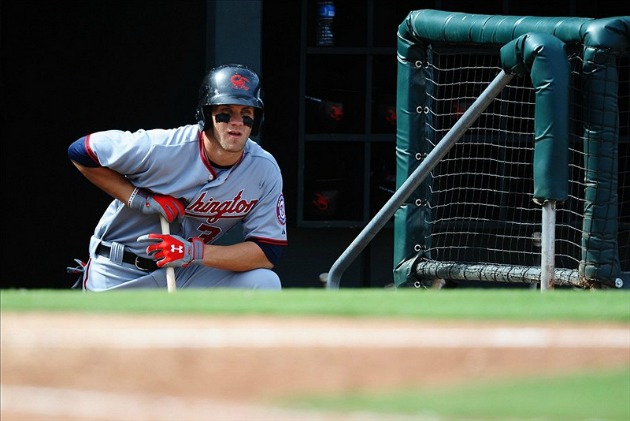 By C. Trent Rosecrans
Even before he was picked first overall in the 2010 draft, the
Nationals
'
Bryce Harper
had a reputation of rubbing people the wrong way. Harper's talent has never, ever been questioned, but his demeanor and attitude have been.
I saw it last year in a Class A game in Lexington, Ky., where he nearly started a fight by trying to bowl over a catcher despite having no chance of dislodging the ball, only to back down quickly. He
famously blew a kiss at a pitcher after homering off of him last season
, drawing scorn from many. Others have scoffed at his use of eye black and even the way he wears his hat -- and for Pete's sake, he named his dog "Swag." And then there's his
Twitter account
.
Last week Harper
told MLB.com's Bill Ladson that he wanted to be a Joe Namath-type athlete off the field
.
Nationals general manager Mike Rizzo said the team understands Harper is a typical 19-year-old, but what to impress upon him that anything he does won't be treated like the actions or words of a typical 19-year-old. The Nationals, Rizzo told the
Washington Post
, have counseled Harper and tried to impress upon him his role in the organization.
Rizzo also said, he doesn't think Harper's a bad kid, "there's not a malicious bone in his body. Now, there's a cocky bone in there," Rizzo
told the Post's Jason Reid
. "And there's an ego bone. And there are other bones … but there's not a malicious bone in his body."
Nationals manager Davey Johnson is reportedly pushing for Harper to make the team's opening-day roster, but Rizzo seems to think Harper has development left beyond his production on the field.
"He's going to make it to the big leagues when I realize that, developmentally, he's ready to play in the big leagues," Rizzo told the
Post
. "That's physically, that's emotionally and that's psychologically."
For more baseball news, rumors and analysis, follow @EyeOnBaseball on Twitter, subscribe to the RSS feed and "like" us on Facebook.