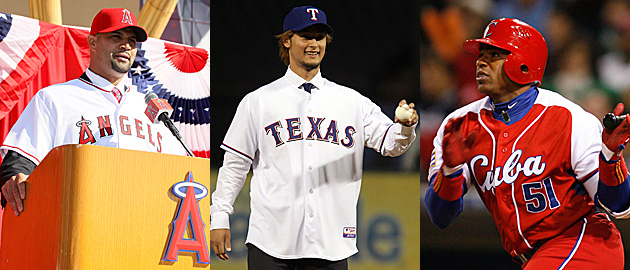 By Matt Snyder
The AL East has been pretty widely regarded as the best division in baseball for a while. And with good reason, as the numbers don't lie. In the past 15 years, the AL wild card has come from the AL East 11 times. The best record has also come from the AL East 11 times. The American League World Series representative has come from the AL East nine times, while the World Series champion was an AL East team six times. Also note the '96
Yankees
won it all, 16 seasons ago. Simply, it's a dominant division.
But with the events of this offseason, we're liable to see a shift in power to the west coast. Monday's Yoenis Cespedes signing for the A's wasn't a seismic shift type deal, but it shows they're focusing on winning within the next four years. Also note that
the extensions of general manager Billy Beane and club president Michael Crowley
are a true sign the A's will eventually get their new stadium in San Jose. When that happens, they'll start to have some extra revenue. So things should be looking up for the A's in the next few years, right? Well, not so fast.
In fact, the A's might be looking like the AL West's version of the Baltimore
Orioles
. Since 2000, the Orioles haven't finished better than third -- which happened only once -- and have come in last the past four seasons. They've also had a payroll of at least $72 million seven of the past 11 seasons. They aren't poor by any means. They just can't keep up in the monster of a division that is the AL East.
Let's see what's in store for the A's in the next decade or so, in terms of their divisional competition.
• The
Angels
have an owner who just shelled out over $300 million to land
Albert Pujols
and
C.J. Wilson
in free agency. It probably didn't seem like much of a big deal to Arte Moreno, considering he's looking at a local TV contract of 20 years for $3 billion. Plus, the Angels play in the mega-market that is Los Angeles. They aren't going away.
• The
Rangers
paid over $50 million just for the right to negotiate with Japanese phenom
Yu Darvish
and then paid him over $50 million more to sign. The have a front office and ownership group that can compete with anyone in terms of brains and most teams in terms of dollars. The Dallas area is a large market and the fan base is continuing to grow after two straight World Series appearances. They aren't going away, either.
• The
Astros
are moving to the American League West, and while it's gonna be a few years before they can compete, remember they have a new owner, Jim Crane, who likely didn't pay $680 million to own a doormat of a baseball team. Plus, Houston is one of the largest markets in America -- and the Astros had a nine-figure payroll in 2009. Don't discount how they'll play in this division come 2015 or 2016. They can spend, and will have to in order to keep up.
• The
Mariners
are in the 12th biggest market in MLB, which isn't bad at all. But they'd be at risk of falling far behind if not for a lucrative TV deal in their near future. Last week, a
USA Today report
noted the Mariners are among a handful of teams ready to cash in with a mega-TV deal like the Angels just did. Prior to the 2015 season, the Mariners can opt out of their current local TV deal with Root Sports and hit the open market.
The Seattle Times also pointed out
that the Mariners have trimmed their bottom line to the point that the only long-term investment is the reliable ace
Felix Hernandez
. So they could be positioning for a major strike within the next few years, after landing the aforementioned lucrative TV deal.
The process is going to be gradual, especially and obviously with the Mariners, Astros and A's.
Just don't be surprised if a decade from now the AL West is viewed as the best division in baseball. The resources are all falling into place for a westward move in the balance of league power.
For more baseball news, rumors and analysis, follow @EyeOnBaseball on Twitter, subscribe to the RSS feed and "like" us on Facebook.