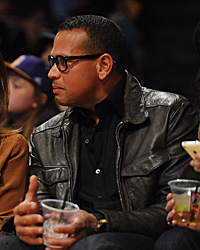 By Matt Snyder
Earlier Wednesday,
Forbes.com released its annual list of most disliked athletes
, and only one baseball player appeared on it. Not surprisingly, it was
Alex Rodriguez
of the
Yankees
. Now, I don't say that because I personally dislike A-Rod (I don't), but it's pretty evident he's the most hated baseball player among casual fans nation-wide.
[EYE ON NFL: Suh, Vick, Burress among most-disliked athletes]
But seeing the list got me thinking -- from a baseball standpoint, because that's what I do -- of two different things. First of all, that's pretty cool that only one player made the list. The NBA and NFL combined for seven of the top 10. Plus, a few years ago, I'm sure A-Rod would have been joined by Roger Clemens, Barry Bonds and Manny Ramirez.
So is baseball becoming more irrelevant? I'd say no. The World Series got gigantic ratings and earlier this year was
tied with college football for second in a poll of America's favorite sport
(take a wild guess as to what was No. 1).
So it's entirely possible baseball's new crop of players are just that much more likable. The testing for PEDs has to help, obviously, because fans really seem to hate guys getting rich and taking down records from beloved players like Hank Aaron, Babe Ruth and the like by cheating the system. I feel like there's more to it, but that's probably a different discussion for a different day.
Anyway, the second thing that came to mind was this: A-Rod's been a fan punching bag for far too long. Isn't it old at this point? And, really, "A-Roid?" C'mon, let's be more creative than that. Baseball needs a new Public Enemy No. 1.
Bud Selig probably qualifies for many, judging from the intense ire he draws in our comments section, just as Frank McCourt and the Wilpon family do, but this is only for players.
And my best guess is
Bryce Harper
.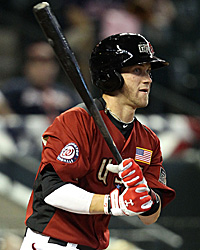 Just as I did with A-Rod above, I'll start by pointing out that I don't dislike Harper. My colleague
Gregg Doyel wrote last August about how unfairly maligned Harper is
. But there's only so much that can do. Let's look at the elements that I subjectively think usually cause the national public to dislike a player -- and see how they apply to Harper.
1. He's rich.
C'mon. Let's face it. Jealousy is what drives most hate, and many fans are jealous of rich athletes to begin with. But it can't be
just
this, otherwise every single player would be hated.
2. He's not like them.
Bryce Harper was so talented he began to gain significant hype when he was 15 years old. He was rich before he turned 18, so it wasn't like he labored as an adult to "make it." Also, many sports fans are loyal to their teams and cities. Harper is a fair weather fan. He recently took to Twitter to defend himself for growing up a fan of: Duke basketball, USC football, the Yankees, the Lakers and the Cowboys. I'm guessing that makes millions of fans cringe.
3. Excessive hype.
Fans generally seem to get sick of hearing about guys and hard-core baseball fans have already been hearing about Harper for the past three-plus years. And he's still not even 20. It's only going to build as he gets closer to joining the
Nationals
.
4. Outward arrogance/bad PR.
While Harper works hard, never gets in trouble off the field and seems to have great intentions, he's had a few public relations issues already. He blew a kiss at a pitcher after homering off him in the minors last year. He was ejected from a game for screaming at an umpire. At the Future's Game last year, he missed a cutoff man that ended up costing his team a run, but in the locker room he said he didn't care that he just wanted to show off his arm. It also didn't help when a coach said he faced the most scrutiny of any player since Jackie Robinson (which isn't a comparison, but when the names are used side-by-side it just feels wrong to many).
Fair or not -- and I'd argue almost all of this is unfair -- many fans are already taking to message boards and Twitter and calling Harper things like a "spoiled little kid." I'm guessing that Harper hits this list within the next few years. So maybe A-Rod passes the torch to Harper.
And here's the thing that is most important: The entire general public doesn't "hate" someone irrelevant. So Nationals fans should actually be rooting for Harper to be good enough to "deserve," if you will, the impending wave of scorn.
For more baseball news, rumors and analysis, follow @EyeOnBaseball on Twitter, subscribe to the RSS feed and "like" us on Facebook.