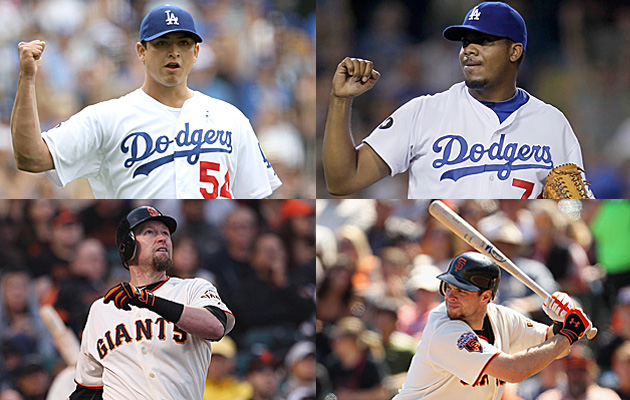 By Matt Snyder
We are finally just a few short weeks away from spring training beginning, so let's continue looking at some positional battles that will unfold through February and March.
Monday, we looked at the AL West
and now it's time to look at the NL West.

Arizona Diamondbacks
None:
None yet.
I understand this probably comes off as a bit lame, but
look at the D-Backs depth chart
and tell me where there are any legitimate battles. From the starting lineup to the rotation to the bullpen, it would appear the defending NL West champs have very few question marks heading into the 2012 season. I would keep an eye on last year's first-round pick, starting pitcher
Trevor Bauer
(maybe pushing
Josh Collmenter
to the long relief role at some point in June or July?), but it's very doubtful he fits in the rotation out of spring. He got knocked around (7.56 ERA, 1.68 WHIP) in four Double-A starts last season. So I've got nothing here. They are already set.

San Francisco Giants
First Base:
Aubrey Huff
vs.
Brandon Belt
Is it time to pass the torch yet? The Giants had no patience with Belt last season, as the 23-year-old prospect was shipped back to the minors in April after just 60 plate appearances. He came back to stay in the middle of July, hitting .231/.296/.469 the rest of the way, but that was only in 142 plate appearances. And he did show good power, hitting eight homers in that stretch. In 111 career Triple-A games, Belt has a .441 on-base percentage and 20 home runs. Meanwhile, Huff is 35 and coming off a season where he hit .246/.306/.370 with just 12 homers in 579 plate appearances. With the additions of
Angel Pagan
and
Melky Cabrera
, it's unlikely the Giants shove Belt back in the outfield initially, so they must make a decision here. Do they leave Belt in Triple-A again, where he's proven he's a stud, have him ride pine in the bigs, or just move on past Huff and let Belt have the job?
Shorstop:
Ryan Theriot
vs.
Brandon Crawford
vs.
Mike Fontenot
The 25-year-old Crawford is easily the best defender of this group, but at some point the Giants will need some offense. Crawford is a career .234/.291/.327 hitter
in Triple-A
. In 220 big-league plate appearances, Crawford hit .204/.288/.296 last season, so he's a complete offensive liability. Ryan Theriot hit .271 with a .321 OBP last year, and he also has no power. He does, however, have a career .282 average and .344 OBP. Fontenot hit only .227/.304/.377 last season, but he certainly has the most power of the trio here. Basically, there isn't really a good choice, but there's still one to be made. Of note: Fontenot and Crawford hit left handed, so maybe Theriot ends up platooning with one of them.

Los Angeles DodgersLeft Field:
Jerry Sands
vs.
Tony Gwynn
Jr. vs.
Juan Rivera
Did Sands' month of September give the Dodgers confidence he's ready to take over in left right away? It's possible. After hitting pretty poorly in his stint earlier in the season, Sands hit .342/.415/.493 with two homers, nine RBI and five doubles in 83 plate appearances in the last month. He's only 24, but he's also hit for great power in Triple-A (29 home runs in 418 plate appearances in Albuquerque last year). This one is all about him, with Gwynn being the backup option and Rivera being the desperation option.
Closer:
Javy Guerra
vs.
Kenley Jansen
Guerra is the incumbent and successfully converted 21 of 23 save chances last season. He's only 26 and posted a 2.31 ERA, 1.18 WHIP in his 46 2/3 innings last season, too. So he's the obvious closer, right? I'm not so sure. The 6-foot-5 Jansen is only 24 and has elite closer written all over him. He had a rough start, but from June on, Jansen posted a 0.55 ERA, 0.67 WHIP with four saves, seven holds and zero blown saves. His stuff is nasty, as he struck out 96 hitters in 53 2/3 innings on the season. It looks like the sky is the limit, so would the Dodgers really leave him in the eighth inning due to Guerra's 2011 performance?

Colorado Rockies
No. 3-5 starting pitchers:
Alex White
vs.
Drew Pomeranz
vs.
Juan Nicasio
vs.
Guillermo Moscoso
vs.
Tyler Chatwood
vs.
Josh Outman
vs.
Jamie Moyer
After stockpiling pitchers the entire offseason, it wasn't too surprising to see the Rockies trade away both
Kevin Slowey
and
Jason Hammel
. Of course, they got back
Jeremy Guthrie
and still have an absurd logjam behind Guthrie and
Jhoulys Chacin
. And
Jorge De La Rosa
will be back at some point later in the season (he had Tommy John surgery last June). White and Pomeranz are both young and inexperienced enough to justify more time in Triple-A, but they probably have the best stuff of anyone on the list. Chatwood got plenty of MLB experience last season, but he's still only 22 and his numbers weren't good. It's hard not to root for Nicasio, as he's coming back from a broken neck. He made some good starts for Colorado last summer, too. Outman's never really shown more than mediocrity and Moyer is 49. I very much like Moscoso's chances, for one, as he's 28 and had a 3.38 ERA and 1.09 WHIP last season for Oakland. The ballpark difference in home games will be bad, but the NL West has fewer fearful hitters than the AL West and some spacious parks. So I'll officially predict Moscoso gets in, but beyond him, it's a complete toss up.

San Diego PadresCatcher:
Nick Hundley
vs.
John Baker
vs.
Yasmani Grandal
Hundley has had parts of four seasons to prove himself. Last season, he did hit well, with a .288/.347/.477 line, but injuries limited him to just 82 games. His career high, due to many different circumstances, is 85. The 31-year-old Baker has had the past couple seasons ruined due to an arm injury (Tommy John surgery and rehab took out nearly all of last season), but back in 2008-09 he hit .281/.364/.423 for the
Marlins
. The two could actually platoon, because Baker hits lefty while Hundley hits righty. Grandal, though, has loads of talent. He was the
Reds
' first rounder in 2010, is a switch hitter and has a career minor-league line of .303/.401/.488. He's only played four games in Triple-A, though, so he'd probably have to go nuts with his bat in the spring to get a shot out of the gate. The smart money is on the Padres going with Hundley as the primary starter, Baker as a backup who sees a good amount of playing time and Grandal spending most of the season in Triple-A. Maybe even a platoon with Hundley and Baker. Still, there's enough here for a potentially good three-way battle this spring. And you never know on Grandal. He jumped from High-A to Triple-A in 2011 and his experience before that was just eight Rookie League games in 2010. Maybe he's one of those guys that doesn't need much minor-league seasoning.
For more baseball news, rumors and analysis, follow @EyeOnBaseball on Twitter, subscribe to the RSS feed and "like" us on Facebook.