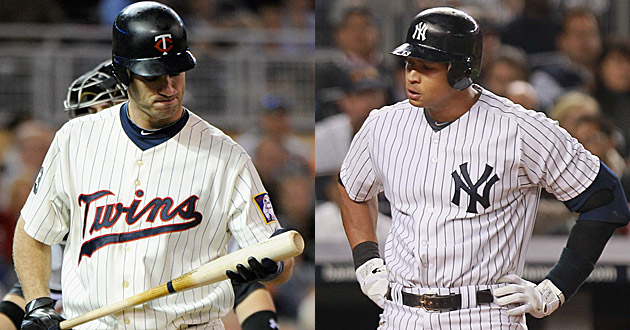 By Matt Snyder
This past weekend I posted a blog about
Joe Mauer
feeling healthy so far this offseason and
in the comments section a small discussion about bad contracts broke out
. So, I figured, why not sort through all the contracts in baseball and come up with some of the worst? We're still more than two weeks from pitchers and catchers reporting, but it would be shocking to see a free agent sign for a contract that would rank among the worst in baseball -- considering the players left unsigned. So the timing works well. Let's check it out and discuss, shall we? If there's one thing baseball fans love, it's arguing.
We'll go at this in three different parts. First (now) is infielders and catchers, Thursday we'll look at the outfielders and designated hitters while Friday is pitchers.
One last note before we proceed. The way baseball's salary structure is set up, the overwhelming majority of the players can't make big bucks -- relatively speaking, of course -- until they've been in the league for about three years. Then there is arbitration, so they aren't free agents for another few years. So, most of the time, the overpaid players were underpaid -- again, relatively speaking -- when they were young studs. So you could argue it evens out. And I would in many cases. I also don't begrudge any of them for making gobs of money to play a game. They have a special talent that people pay to watch. They deserve a huge cut. So let's just try to stay on topic here, OK? Great. Let's dive in.
Catcher

Worst:
Joe Mauer,
Twins
Remaining contract: 7 years, $161 million
Mauer is obviously coming off a disastrous season and should improve greatly in the next few years. That being said, his health issues throughout 2011 were a bit of a wakeup call on how bad that contract will likely prove to be. He has to remain behind the plate to be worth anywhere close to $23 million per season, and what are the chances that he stays productive and healthy as a full-time catcher for the next seven years? If he moves to first base, he's a
well
-below average power hitter at the position and that harms the offense as a whole. While Mauer is certainly a stand-up guy and a hometown hero, it's hard to see this contract coming close to paying off for Minnesota in the end.
Honorable Mention
Victor Martinez
,
Tigers
: This one is mitigated by the fact that the Tigers have insurance (that will reportedly pay almost half), but he's still owed $38 million over the next three seasons. In fairness to the Tigers, though, this wasn't really a bad deal when signed. They didn't know he'd get badly hurt and they'd then sign
Prince Fielder
to a gargantuan contract. It's just that there aren't really any other bad catcher contracts. I'm even cheating by putting Martinez here because he's predominantly a DH. I just had to list someone here.
First Base

Worst:
Ryan Howard
,
Phillies
Remaining contract: 5 years, $125 million
The achillies injury wasn't taken significantly into account because there's no way the Phillies knew that was coming. Still, this deal was signed in April of 2010 but is just now kicking in for the start of the 2012 season. We're talking about a guy who hit .253 and only had a .488 slugging percentage last season.
Jose Reyes
and
Shane Victorino
had higher marks in slugging, which is a power stat. The 33 home runs and 116 RBI look good, but Howard is set to make $25 million per season for the next five years. He also hit just .105 with a .263 slugging percentage in the 2011 NLDS, where the Phillies lost in five games to the
Cardinals
due predominantly to a lack of offense. When Howard is 36 and making $25 million, it'll be an albatross of a contract.
Honorable Mention
Albert Pujols
,
Angels
: It's actually a huge bargain for the next two seasons, when Pujols will make a combined $28 million, but by the time you get to age 42 and $30 million per year, it's pretty rough. The Angels are counting on having already made their money by then. And they very well might do so, which is why he's only in "honorable mention." We'll see.
Prince Fielder, Tigers: Similar to Pujols, the nine-year, $214 million deal doesn't look bad until several years down the road. We'll see, part two.
Mark Teixeira
,
Yankees
: Teixiera is similar to Howard in several ways. He is actually coming off back-to-back seasons of sub-.500 slugging percentages (Howard was only below in '11) while getting most of his value from home runs and RBI, the latter of which is a team stat. The difference is Teixeira is a great defender and is owed slightly less ($115 million and change in five years). And he is completely healthy, which bodes better in his chances to right the ship these next few years.
Second Base

Worst:
Dan Uggla
Remaining contract: 4 years, $52.8 million
Uggla salvaged what could have been an awful 2011 season by getting insanely hot in the second half. He ended with a career-high 36 homers, but that's about all that looks good, on the whole. He hit .233/.311/.453 with 156 strikeouts, poor defense and a career-low 22 doubles. He'll be 35 in the final year of his contract.
Honorable Mention
Chase Utley
, Phillies: Past performance means he's probably earned this, but $30.575 million for the next two seasons seems awfully high for a 33-year-old coming off a .259/.344/.425 season.
Brian Roberts
,
Orioles
: Let's just hope he finds a way to recover from all the post-concussion symptoms for the sake of his quality of life. The Orioles have far bigger problems than the $20 million Roberts will make the next two seasons.
Tsuyoshi Nishioka
, Twins: OK, so $6 million for two seasons isn't much money to any team in the majors, but Nishioka was probably the worst position player in baseball last year and it's hard to see any improvement.
Shortstop

Worst:
Jose Reyes,
Marlins
Remaining contract: 6 years, $106 million
I don't think this was an awful signing at all, from a certain point of view. The Marlins wanted to make a splash and Reyes is the type of player that can single-handedly energize an entire lineup ... when he's in it. Yep, there's that qualifier and that's why he's here. Leg injuries -- on a player who relies on speed -- have limited Reyes to 295 games the past three seasons. Can he stay healthy for the next
six
? That's a tall order. Again, though, I don't think this one is egregious, and it's possible he ends up well worth the money. It's just that there aren't many bad contracts at shortstop and this represents a huge risk.
Honorable Mention
Derek Jeter
, Yankees: What he means to the franchise -- in addition to how much money the Yankees can afford to spend -- says this deal isn't hurting anyone at all. But if you look at what he's likely to provide in the next two seasons, there's no way it's worth the $33 million Jeter is owed. Again, though, Jeter has earned the "pension," if you will, by this point in his legendary career.
Third Base

Worst:
Alex Rodriguez
, Yankees
Remaining contract: 6 years, $149 million
If A-Rod hit the free agent market right now, what would he get ... half that contract? He's 36, he hasn't played in more than 138 games since 2007 and is coming off a season where he hit .276/.362/.461. I have no doubt if he stays healthy he has another two or even three great seasons left in him, but he's set to make at least $20 million during the season in which he turns
42
.
Also, there are marketing bonuses in the contract for several home-run milestones from A-Rod's 660th to 763rd home runs (he currently has 629). It's probably not worth getting into in this space, because if A-Rod actually breaks the home run record, the Yankees will be rolling in the promotional dough from the event(s) and aftermath.
Honorable Mention
Brandon Inge
, Tigers: When the Tigers signed Fielder and announced
Miguel Cabrera
was moving to third base, it made Inge a $5.5-million backup for the 2012 season.
On the other hand ...

Evan Longoria
,
Rays
: Even if the Rays pick up all their club options on Longoria -- which they surely will, barring major injury -- the All-Star third baseman is only owed $40.5 million over the next five seasons. He's only 26 years old and already has two Gold Gloves, 113 career homers, an .874 career OPS and three postseason appearances in just four seasons. He's received MVP votes in all four of his seasons at the majors. He'll make $4.5 million in 2012 while A-Rod will make $29 million. Now
that
is a club-friendly contract, one that is surely the envy of general managers -- and certainly owners -- across the league.
Next
Thursday: OF/DH
Friday: Pitchers
Source for all figures was Cot's Baseball Contracts
For more baseball news, rumors and analysis, follow @EyeOnBaseball on Twitter, subscribe to the RSS feed and "like" us on Facebook.