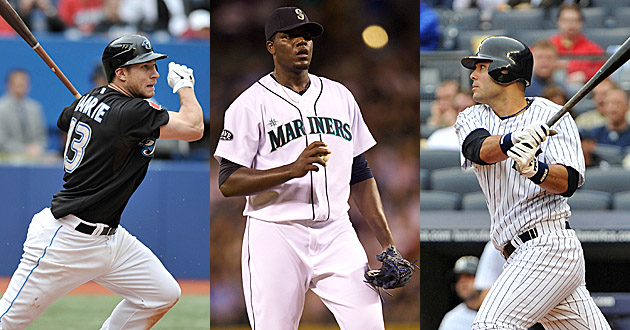 By Matt Snyder
The
Blue Jays
had to field some questions from a few disgruntled fans Monday night in their State of the Franchise meeting concerning a seeming lack of major moves this offseason. At one point, general manager Alex Anthopolous reportedly discussed a trade that he didn't make because he would have had to give up a "major-league ready player" in return.
And reliable
Toronto Globe and Mail
reporter Jeff Blair says
sources tell him the proposed deal
was third baseman
Brett Lawrie
for then-Seattle starting pitcher
Michael Pineda
(
Update:
Geoff Baker of the The Seattle Times back up this assertion
). The Blue Jays refused to deal Lawrie, so instead the
Mariners
went out and flipped Pineda for then-Yankees designated hitter
Jesus Montero
.
Interesting.
The Mariners interest in Lawrie makes a ton of sense. Not only is he a great young talent, but M's GM Jack Zduriencik was the
Brewers
director of amateur scouting when they drafted Lawrie in the first round 2008. Plus, the Mainers have a hole at third.
But, personally, the most interesting part here is from the Blue Jays' angle. Lawrie is only 22 and had a great debut for the Jays last season, hitting .293/.373/.580 with nine homers, 25 RBI and 26 runs in just 171 plate appearances. That's a line that has future star written all over it. Pineda, though, is only 23 and was an All-Star for Seattle last season. He faded down the stretch, but still struck out 173 hitters in 171 innings. Considering the Blue Jays need pitching more than hitting at this point, that they could play
Jose Bautista
at third and also that they have a handful of young outfielders, this move might have made some sense.
Instead, it seems Anthopolous played his own little game of
Would You Rather Have
and elected he wanted Lawrie more than Pineda (but wait, how could he possibly "compare" a third baseman and a pitcher?!?).
And when Anthopolous did balk at making the move, it opened the door for the
Yankees
to make a deal that strengthened their pitching staff.
Only time will tell on what would have been the right move here for the Blue Jays, but it's certainly an interesting nugget on a slow Tuesday to chew on.
For more baseball news, rumors and analysis, follow @EyeOnBaseball on Twitter, subscribe to the RSS feed and "like" us on Facebook.