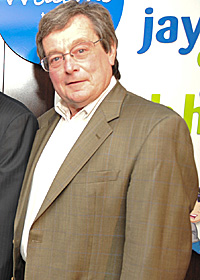 By Matt Snyder
The
Blue Jays
held their "State of the Franchise" event with fans Monday night in Toronto. It was the opportunity for fans to ask questions of -- or yell at -- team president Paul Beeston, general manager Alex Anthopolous and/or manager John Farrell.
A variety of topics were discussed, obviously, but the money quote came courtesy of Beeston (pictured right), when he said he expects the Jays to make the playoffs "two to three times in the next five years." (
Mike Cormack via Twitter
)
"Could start this year, could start next year," Beeston said (
Mike Cormack via Twitter
).
Now, there is nothing wrong with confidence, but this is a bit ambitious. The Jays went 81-81 last season, which was good for fourth place in baseball's toughest division. In 2010, they won 85 games and still came in fourth. In 2008, the win total was 86. And, again, the Jays finished fourth. That wins other divisions some seasons. In the AL East, it makes you an afterthought.
Further clouding matters is the front office's refusal to dole out big-time contracts. Both Beeston and Anthopolous said the club would not give out a contract of longer than five years. That is what eliminated them in the
Prince Fielder
sweepstakes, for example, as Beeston specifically told fans money wasn't the issue and they were interested in Fielder on a deal from one through five years.
The Blue Jays do have a good amount of young talent and I fully expect them to be better in 2012 than they were in 2011. With the playoffs expanding to allow two wild cards, that helps, too. But making the playoffs three times in the next five years is pretty tough for anyone, let alone a team competing against the
Yankees
,
Rays
and
Red Sox
in the AL East.
For more baseball news, rumors and analysis, follow @EyeOnBaseball on Twitter, subscribe to the RSS feed and "like" us on Facebook.