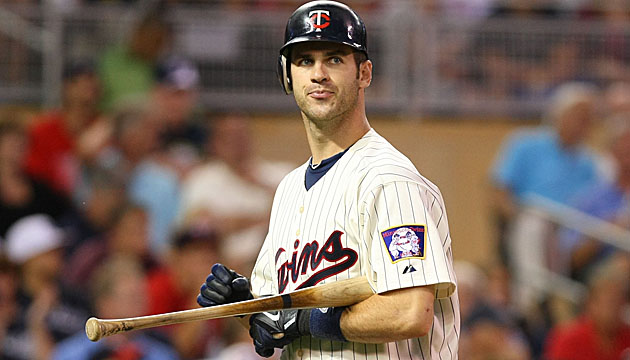 By Matt Snyder
While it wasn't even close to
Adam Dunn
bad,
Twins
catcher
Joe Mauer
had a season to forget in 2011. He suffered setbacks in his recovery from offseason knee surgery and was said to have "bilateral leg weakness" for much of the early part of the season. He only played in 82 games and wasn't the type of offensive presence we've grown accustomed to seeing when he was on the field.
After a nearly complete offseason of working out, Mauer sounds like he believes he's in line for a good 2012 season.
"The knee's been feeling great," Mauer said during a TwinsFest appearance (
MLB.com
). "The last year and a half, just trying to compensate for that kind of took a toll on my whole body. I don't think it's going to be an issue. I'm feeling good, so I'm excited. This is the best I've felt in a long time. I'm excited about that."
More,
from MLB.com
:
"This point last year, for me it's been night and day physically for how I feel," Mauer said. "I really was just kind of doing rehab stuff with the knee. I don't think I grabbed a bat until, I don't even know, later. I feel good. I'm excited to get out there on the field and move around. Things are a lot better for me physically than they were last year."
Look, the stories about guys who are in the "best shape" of their lives heading into spring training are seen every year. It's nothing new and I fully expect to see many more as we get into February. But with some players it's legitimate to check in on their status. Mauer obviously had a series of bad circumstances mar his 2011 season. If he's taken steps forward with a better offseason conditioning regimen while also feeling completely healthy, there's every reason to take him seriously as a huge bounce-back candidate.
Mauer, 28, hit just .287/.360/.368 last season with three homers and 15 doubles in 82 games. He only started 47 games behind the plate. The 2009 AL MVP brought a career line of .327/.407/.481 into the season. Considering he is set to make $23 million per season through 2018, how he plays this season is going to be one of the most important storylines in all of baseball, let alone for the Twins.
For more baseball news, rumors and analysis, follow @EyeOnBaseball on Twitter, subscribe to the RSS feed and "like" us on Facebook.