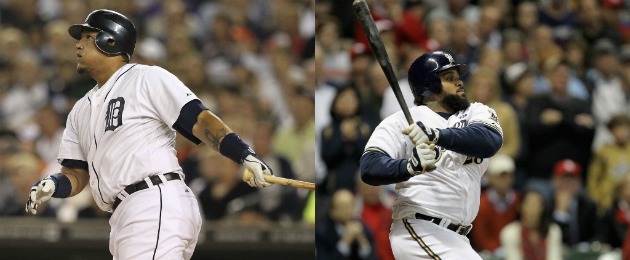 By C. Trent Rosecrans
Last week we all wondered how the
Tigers
would replace the injured
Victor Martinez
in the lineup --
today we got our answer.
Prince Fielder
immediately restores some roar to the Tiger lineup and makes a nice 3-4 combo with
Miguel Cabrera
, forming perhaps the most feared duo in baseball. And in 2013 you have a 3-4-5 of Cabrera, Fielder and Martinez -- all for the low, low price of $346.5 million (or $69.3 million pizzas from Little Ceaser's) for all three over the course of their contracts.
So, if Fielder signing with the Tigers is the biggest surprise of the day, how about this for the second-biggest shock? The move means Miguel Cabrera is likely headed back to third base. Yep, the bad defensive first baseman will now be a horrendous defensive third baseman (much to the chagrin of
Justin Verlander
,
Doug Fister
and Co.).
That means the rumors of the
Johnny Damon
return to Detroit make a little more sense, with the Tigers no longer needing a slugging DH. For now, though, I'll make my lineup with
Don Kelly
as the DH, knowing that the Tigers could still add a stopgap DH type, like Damon.
Here's a too-early, first-stab at the new Tiger lineup:
1.
Austin Jackson
CF
2.
Brennan Boesch
RF
3. Miguel Cabrera 3B
4. Prince Fielder 1B
5.
Delmon Young
LF
6. Don Kelly DH
7.
Jhonny Peralta
SS
8.
Alex Avila
C
9.
Ryan Raburn
2B
This, of course, could change at a moment's notice, but it also keeps the door open for a seemless transition when Martinez returns from his knee injury. Or the Tigers could realize that Cabrera at third base is a terrible idea and then they'll be overloaded with first basemen and designated hitters. Whatever happens, Mike Illitch is going to be signing some big checks and Verlander should have more run support.
For more baseball news, rumors and analysis, follow @EyeOnBaseball on Twitter, subscribe to the RSS feed and "like" us on Facebook.