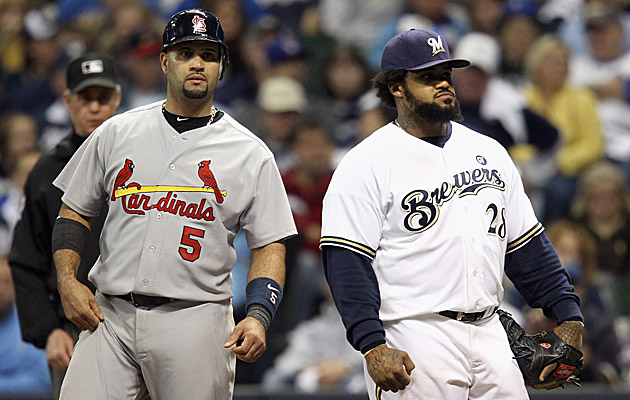 By Matt Snyder
Two superstar first basemen helped lead NL Central teams into the playoffs in 2011. In 2012, each will be playing in the American League.
Albert Pujols
signed a whopping 10-year, $254 million contract to leave St. Louis and head to the
Angels
. Several weeks later (today),
Prince Fielder
accepted a
nine-year, $214 million deal to join
the Detroit
Tigers
.
We long had this matchup slated to run at some point in this Would You Rather Have series, but wanted to hold off until the dollar figures were known. Obviously if Fielder signed for half what Pujols did -- especially being younger -- he'd be the choice. But we now have contracts that are essentially apples to apples, as they're close enough in average annual value.
The case for Pujols
Ever since Barry Bonds retired, Pujols has been either the consensus best player in baseball or the runner-up (at times
Alex Rodriguez
was considered superior). Pujols has won three MVPs and finished in the top 10 of MVP voting every single season of his career -- and the top five all but one time. He already has 445 home runs and sports an absurd 1.037 career OPS (170 OPS-plus).
On top of all the considerable damage Pujols can do with his bat, he's a well-rounded player. He's widely regarded as an exceptional baserunner and an above average defender. He's certainly a much better defender than Fielder, so leave the puns alone.
Pujols also doesn't have the weight concerns many attach to Fielder.
The case for Fielder
He's no slouch with the bat himself. In only six full seasons -- and change -- Fielder has 230 homers and a .929 OPS. Last season he hit 38 home runs and drove home 120. For the third consecutive season, Fielder drew more than 100 walks, too, so his plate discipline can rival that of Pujols. And Fielder does have three top-four finishes in MVP voting in the past five seasons.
Despite concerns about weight, Fielder trumps Pujols in the durability category. Prince has only missed one game in the past three seasons combined. In his six full seasons, Fielder has averaged 160 games played. And that's a segue to the age issue.
Prince Fielder is only 27 -- he'll turn 28 this May. Albert Pujols just turned 32. And Pujols' contract is one year longer.
So, obviously Pujols would have been the choice for this past decade, but what about the decade to come?
Our call
I'm sticking with Pujols in a ridiculously difficult choice. Each player probably switches to designated hitter around the same time and I'll take Pujols' defense as the separation point in the next few years.
Fan Vote:
For more baseball news, rumors and analysis, follow @EyeOnBaseball on Twitter, subscribe to the RSS feed and "like" us on Facebook.