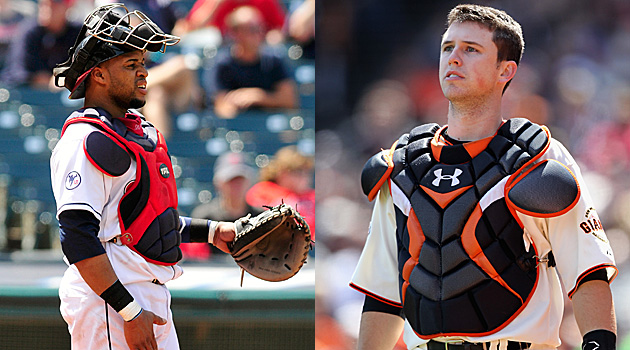 By Matt Snyder
One position we haven't yet covered in this series to this point is the man behind the plate. And when I thought about catchers, I believe I found just about the perfect duo to provide an incredibly tough choice.
Indians
catcher
Carlos Santana
is just 25 and already one of the most important members of the up-and-coming Tribe.
Giants
catcher
Buster Posey
is only 24 and easily one of the most irreplaceable parts of the Giants. You could call them stars now or future superstars. And both have already gone through a major leg injury.
Let's break it down.
The case for Santana
The tools are there to become one of the best young run producers in the game. Santana hit just .239 last season, but he walked enough to put up a .351 on-base percentage, which is a much more important stat. He also slugged 27 homers and 35 doubles. Also note that a torn ACL ended his rookie season prematurely, so Santana is likely looking at big step forward in 2012. With the lineup around him comprised mostly of young players with good potential, expect Santana to push his runs and RBI up around triple digits (he had 79 RBI and 84 runs last season).
A slight plus here for Santana is that while both of these catchers has already suffered a major injury, we've already seen how Santana came back. Posey is still recovering.
The case for Posey
He opened the 2010 season in Triple-A. By the end of it, young Buster Posey was catching the final strike of the World Series and rushing into
Brian Wilson
's arms to celebrate. In between, Posey hit .305/.357/.505 with 18 homers, 23 doubles and 67 RBI in just 108 regular-season games. This was good enough to win the 2010 NL Rookie of the Year. Posey also hit the ball well during the postseason, putting up a .744 OPS.
Also, Santana is a pretty bad defensive catcher and while Posey isn't great, he's not bad. He works well with the staff and has thrown out 37 percent of would-be basestealers so far in his young career. Santana has thrown out 28 percent, which isn't awful, but most metrics aren't kind to him and the Indians have toyed with moving him to first base permanently. Even if we wanted to argue some of these points -- like that Posey has played first base at times, too -- there isn't much question Posey is a better defensive catcher.
Now, we said above that Posey still hasn't proven he will again be the player he was prior to the broken leg. It's possible there are no setbacks and he returns to the Posey of old, but there are no guarantees. Just ask
Kendrys Morales
. So far, so good, however, as all reports from Posey's camp suggest he's making good progress.
Our call
Man, flip a coin. I hate going on the injury thing, because the smart money is on a full Posey recovery. So we'll just assume he comes all the way back -- meaning both of these young catchers star for the foreseeable future. If Santana goes the way of former catcher
Victor Martinez
(1B or DH), his bat means that much less to the lineup, while Posey can nearly match his offensive production from behind the plate. If Santana stays behind the plate, he hurts the team defensively. If both were moved, though, Santana would be the pick because I feel like he has a slight bit more offensive upside. If Posey suffers any setbacks, Santana would be the obvious pick. So this is razor thin, but my choice is Posey in an absolute photo finish. Hey, as I've said before, I enjoy gambling.
Fan Vote:
For more baseball news, rumors and analysis, follow @EyeOnBaseball on Twitter, subscribe to the RSS feed and "like" us on Facebook.