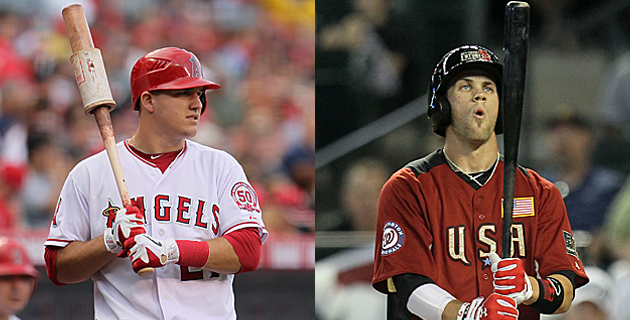 By Matt Snyder
Pop quiz: Heading into the 2011 season, who were the top two prospects in all of baseball?
Hint: You're looking at them (above).
On the left we have
Mike Trout
of the
Angels
, a 20-year-old outfielder with all the potential in the world.
On the right we have
Bryce Harper
of the
Nationals
, a 19-year-old outfielder with even more potential, per most scouts.
We're living in a baseball world where some people freaked out about how much the Nationals gave up -- in prospects, mind you -- for
Gio Gonzalez
, a known quantity.
Over 55 percent of our fans voted
that they'd rather have six years of
Eric Hosmer
than two of
Joey Votto
. So, yeah, people make a habit of judging prospects they've never seen before. Why not do so here?
Let's take a look at the respective first rounders.
The case for Trout
He's a phenom. Trout hit .338/.422/.508 in his minor-league career. He hits with some power (18 doubles, 13 triples and 11 homers in 91 Triple-A games last season) and has great speed (33 steals in Triple-A). He has only scratched the surface of what he can do at the big-league level, as Trout got 135 plate appearances in the majors last season -- being promoted at the tender young age of 19. He showed flashes of being ready to perform at a star-like level already, like on August 30th when he hit two homers, drove home five runs and scored three times.
The Angels could head into the 2012 season with Trout slated as a starter. This isn't some small-market club either, as they just shelled out a king's ransom for
Albert Pujols
and
C.J. Wilson
. And, again, Trout is only 20. This should show how good he is.
Also, for now -- and what we have is an admittedly small amount of data due to lack of defensive metrics in the minors -- Trout appears to be the superior defender. He has lots of range, especially if he's used on the corners, and doesn't commit errors. In 527 minor-league chances, Trout has just three errors, good for a .994 fielding percentage. He also has 15 outfield assists. Harper, meanwhile, has a pretty poor, for a corner outfielder, .961 fielding percentage.
The case for Harper
When I spoke to a few baseball people about this entry into our series, I was told that
Marlins
slugger
Mike Stanton
would be a better "comparison" for Harper because Trout just can't measure up. Yeah, that's how highly regarded Harper is. Last season was his first in professional baseball, and he was only 18.
Harper hit .297/.392/.501 between Class A and Double-A with 17 homers, 24 doubles and 26 stolen bases. He had rough starts at both levels before figuring things out. Remember this when he's promoted to the bigs, in case he suffers a bad first two weeks.
In terms of defense, it should be noted Harper grew up a catcher, so he's still learning the outfield. Thus, improvement -- especially when you consider how good Harper is at doing everything else -- should be expected. He already has a cannon for an arm that passes the eye test and has yielded 13 outfield assists in just 108 minor-league games.
But the bottom line here is that Harper is said to be a Hall of Fame talent, especially in terms of power. It says a lot that the Nationals are thinking of playing
Jayson Werth
in center field, simply so they have a corner spot open for Harper before his 20th birthday.
Our call
I'm going Harper. Trout is going to be a stud who visits the All-Star Game perennially while gathering MVP votes, but Harper is going to be
better
.
Fan Vote:
For more baseball news, rumors and analysis, follow @EyeOnBaseball on Twitter, subscribe to the RSS feed and "like" us on Facebook.