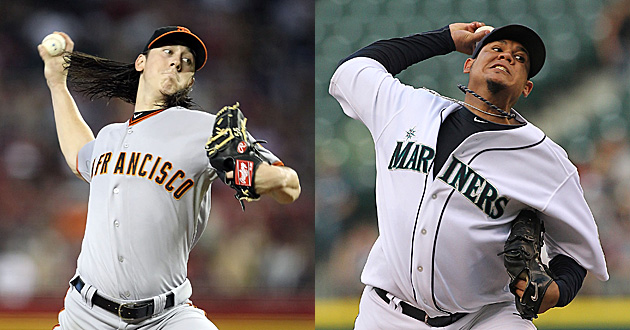 By C. Trent Rosecrans
So, would you rather have a King or a Freak?
Today's Would You Rather Have isn't easy, that's for sure. We're talking about two of the best pitchers in the game, two right-handers both in their 20s and two guys who lost 14 games in 2011. You want proof that wins is an overrated statistic when it comes to judging a starting pitcher?
Felix Hernandez
was a .500 pitcher in 2011 and
Tim Lincecum
was a sub-.500 pitcher. You think either of those guys is a scrub? Yeah, not so much.
The case for Linecum
Lincecum has two Cy Young Awards under his belt before his 28th birthday (this June, by the way) and has thrown at least 212 innings in each of his first four full seasons in the big leagues and he's led the league in strikeouts in the first three of those seasons.
Last season Lincecum went 13-14, but he still had a 2.74 ERA, a 130 ERA+ and a 3.36 xFIP. He also struck out better than a batter an inning and recorded a 1.207 WHIP, while allowing just .6 homers per nine innings.
The case for Hernandez
Hernandez has just one Cy Young, but he arguably deserved another. Oh, and he's not even 26 yet (his birthday is in April). Hernandez came up as a 19-year-old, so he already has seven seasons under his belt, so while young he's hardly inexperienced.
Since his 22nd birthday, Hernandez has thrown at least 200 innings a year, including his 2010 Cy Young year when he was an out from 250 innings on the season.Last season he was 14-14 with a 3.47 ERA but saw his strikeout rate rise to a career-bet 8.6 per nine innings, while his walk rate increased by just a hair.
As for contract status, neither comes cheap -- nor is either locked up long-term. Hernandez is signed through 2014 for a total of $59.5 million, while Lincecum has two more years of arbitration before becoming a free agent after 2013. Lincecum made $14 million last season and has asked for $21.5 million in arbitration this winter, while the
Giants
are offering $17 million.
Our call
There's no wrong answer to this (and no right answer, for that matter), both are amazing talents. I'd expect the poll to be pretty split. Both pitchers are young, durable and dominant. Both pitchers have home parks that are pitcher-friendly and the money is nearly a wash. There have been injury concerns about both, Hernandez because of his workload and Lincecum because of his slight frame, but neither has had serious injuries. In the end, I'll take Hernandez for his youth, experience and one more year of team control (plus cost certainty).
Fan Vote:
Would you rather have Lincecum or Hernandez on your favorite team?
For more baseball news, rumors and analysis, follow @EyeOnBaseball on Twitter, subscribe to the RSS feed and "like" us on Facebook.