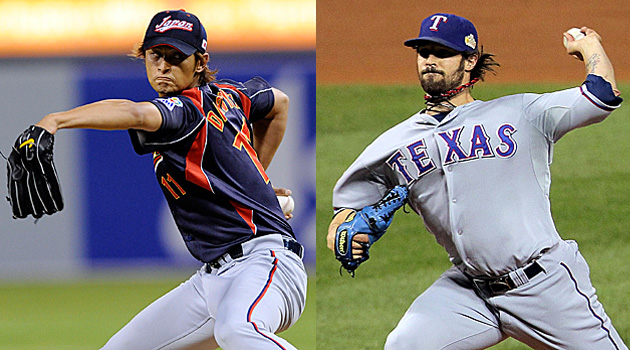 By Matt Snyder
We now know that the
Rangers
have signed Yu Darvish to a 6-year, $60 million contract, which is more than they were reportedly willing to pay
C.J. Wilson
. Plus, the Rangers now owe the NPB's Fighters a $51.7 posting fee on top of the contract. So they were willing to shell out $111.7 million for Darvish, but not half of that for Wilson.
So this marks the perfect opportunity to continue our offseason series
and
see if our answers equal the answer of the Rangers organization ...
Would you rather have C.J. Wilson or Yu Darvish?
Rangers general manager Jon Daniels and company would rather have Darvish. Do we agree with that decision?
The case for Darvish
I've already made the case that
Darvish is unlike any pitcher we've ever seen come from Japan
. Seriously, if you haven't seen the stats, please click on that link. He's head and shoulders above the likes of Dice-K and Hideo Nomo at this point in his career, so it's unfair to lump him in with past imports just because they came from the same league. Darvish is a different kind of talent.
Also, there's the fact that Daniels personally flew to Japan to watch Darvish pitch and the Rangers scouting department was watching him very closely as well. Considering the quick turnaround the organization has made into an American League powerhouse under Daniels and his scouting department, are we seriously going to question what they think they see in Darvish? I'm sure not.
Additionally, Darvish is only 25 while Wilson is 31.
The case for Wilson
The left-hander has only been a starter for the past two seasons, but he's been damn good. In 2011, he was good enough to finish sixth in Cy Young voting, as he went 16-7 with a 2.94 ERA, 1.19 WHIP and 206 strikeouts in 223 1/3 innings. Keep in mind, Rangers Ballpark in Arlington was the top hitters' park in all of baseball in 2011, too, so Wilson was throwing roughly half his games in a pitchers' worst nightmare. He wasn't bad at home (3.69 ERA, 1.23 WHIP), but the difference showed when he took the ball on an opposing mound. He sported a 2.31 ERA and 1.15 WHIP on the road in 2011. And now he's headed to the
Angels
, who play in what rated as a pitchers' park in 2011.
But much of the case for Wilson is that he's a known entity in Major League Baseball. More to the point: Darvish is not. So this part is actually a case against Darvish.
Pitchers in Japan throw once a week while pitchers in the majors are expected to pitch once every five days. Darvish did cut down his schedule to once every six days last season, in advance of knowing he was probably going to post, but that's still one day longer than in America. Also, many scouts liken Nippon Professional Baseball to be either Triple-A level or between Triple-A and the majors. So we don't have any large samples upon which to judge Darvish adjusting to real big-league hitters over the course of a long season or dealing with real adversity when, say,
Albert Pujols
crushes a grand slam off of him. Then you have the travel issue -- in Japan, all the games are played within one time zone. And how will Darvish handle the wilting heat of Texas in the middle of the summer?
There are many fair questions to be asked.
Our call
It's incredibly tough, considering the only bits and pieces I've seen of Darvish came in the 2009 World Baseball Classic -- where he was dominant, but I just don't trust numbers in March. On the other hand, I very much trust Daniels and his operation. With Darvish being six years younger and an imposing 6-foot-5 power pitcher, the possible upside is intriguing. Ultimately that, the age difference and my trust in Daniels has me begrudgingly picking Darvish here. I wish I had at least one major-league start to judge, but no MLB teams were afforded that luxury.
Fan Vote:
For more baseball news, rumors and analysis, follow @EyeOnBaseball on Twitter, subscribe to the RSS feed and "like" us on Facebook.