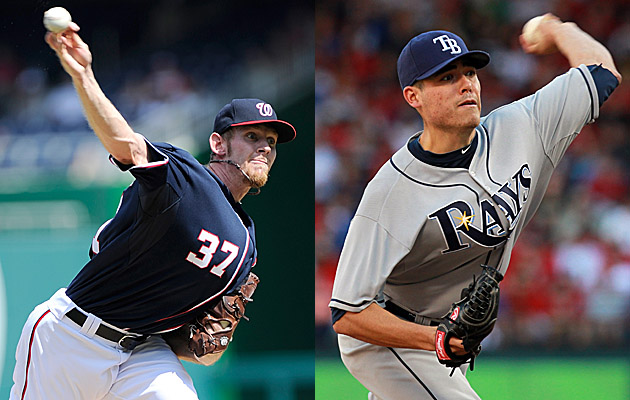 By Matt Snyder
Admission time: This is the matchup I've been most looking forward to in this series. In judging from the comments on occasion, it seems that some fans become angry when we speculate about what might happen in the future. I couldn't possibly be more in disagreement with that sentiment. Thinking is fun. There's no right answer yet, so why not just make an educated guess on which player will end up with the better career? In fact, I think it's much more boring in the offseason to discuss what has already happened than to try and surmise what is coming next.
So we're going to do some looking ahead here and ask that you do the same. We're going to go with two young pitchers who appear to have ace potential, but the sample sizes we have seen in the majors aren't very big -- and with one of these guys, he's already undergone major arm surgery.
It's
Stephen Strasburg
of the
Nationals
against
Matt Moore
of the
Rays
. A righty against a lefty -- and both with gobs of potential.
The case for Strasburg
This one could be spun whatever way one wants, based upon any preconceived biases. We could say Strasburg was the most heavily-hyped pitching prospect since Mark Prior ...
And look how he turned out!
Or we could say Strasburg is the most heavily-hyped pitching prospect since Roger Clemens.
Then there is the Tommy John surgery. There have been players that had their career ruined by the procedure, so focusing on them suits the Strasburg haters. Of course, nowadays the procedure is successful at a very high rate and you could go down the list of names like
Tim Hudson
,
Chris Carpenter
,
John Axford
,
Jaime Garcia
,
Shaun Marcum
,
Brian Wilson
,
C.J. Wilson
, etc. etc. etc.
What if Strasburg stays healthy the rest of his career and does what he's done his entire life: Dominate the opposition. That's an ace for about 15 years.
Strasburg, 23, was the first overall pick in the MLB Draft after making collegiate hitters look silly for a few years. In 17 minor-league starts, he's 8-3 with a 1.90 ERA, 0.81 WHIP and 94 strikeouts in 75 2/3 innings. In 92 major-league innings, Strasburg is 6-4 with a 2.54 ERA, 0.98 WHIP and 116 strikeouts against just 19 walks. This past season, he was even more dominant upon his return from Tommy John surgery, putting up a 1.50 ERA, 0.71 WHIP and 24 strikeouts in 24 innings. He only walked two hitters.
He's going to have his innings capped at 160 this season to protect him in recovery, but starting in 2013 -- assuming full health -- watch out.
The case for Moore
Unlike Strasburg, Moore built himself into a huge prospect while in the minors. He wasn't hyped heading into the draft, as the Rays snagged him in the eighth round. Still, the 22-year-old left-hander was utterly dominant in 2011. He was promoted to Triple-A midseason, where in nine starts he went 4-0 with a 1.37 ERA, 0.97 WHIP and 79 strikeouts in 52 2/3 innings. He was so good the Rays felt that was all the time he needed before hitting the bigs in September. Moore made a pair of relief appearances and then one start: Against the
Yankees
. He did not disappoint, striking out 11 hitters in five shutout innings, picking up in the all-important win as the Rays were chasing down the
Red Sox
in the wild-card race.
Then, manager Joe Maddon felt comfortable enough with the rookie (he'll still be a rookie in '12, by the way) to start him in Game 1 of the ALDS. And Moore was
nails
. He threw seven shutout innings against the mighty
Rangers
in the most hitter-friendly ballpark in the majors. He struck out six while allowing just two hits, two walks and a hit batsman.
On top of all that, the Rays have locked Moore up with an incredibly team-friendly contract through 2016 -- but club options could keep him away from free agency until 2018. On the other hand, Strasburg's agent is Scott Boras, so the Nats won't have near as easy a time in keeping him.
Our call
I think the question comes down to if you trust Strasburg's arm to stay healthy. Moore looks like he has perennial All-Star potential, but Strasburg has Hall of Fame talent. I like gambling, so I'm going to go with Strasburg. If you're conservative with selections like this -- and want to factor in contract status in a major way -- Moore is the pick. But I'm not conservative on issues like this. Gimme Strasburg and the possibility of him winning a handful of Cy Youngs.
Fan Vote:
For more baseball news, rumors and analysis, follow @EyeOnBaseball on Twitter, subscribe to the RSS feed and "like" us on Facebook.