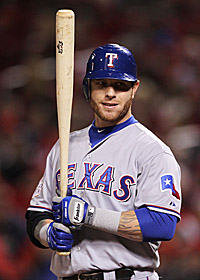 By Matt Snyder
Rangers
star outfielder
Josh Hamilton
is once again without an accountability coach, as his father-in-law, Michael Dean Chadwick, has decided to back out of the position he agreed to take earlier this offseason (
Foul Territory
). Hamilton had been with Johnny Narron ever since joining the Rangers, but Narron took the job of
Brewers
' hitting coach, leaving the job vacant. The role of the "accountability coach" is to help protect Hamilton from his past demons -- alcohol and drugs -- especially on road trips.
"It was a tough, tough deal," Chadwick said (
ESPN Dallas
). "I let my heart get away with me. I wanted to go and be there for Josh. But I've got a 17-year-old daguther at home that needs me too and I'm a homebuilder and have a company here. I sort of put the cart before the horse. It was heartbreaking to call them and say, 'Guys, I can't do it.'"
The Rangers will reportedly seek a new replacement, even though Hamilton has told reporters that he doesn't feel he needs one. His father-in-law apparently agrees with that assessment.
"I think he's got that tiger by the tail," Chadwick said (
ESPN Dallas
). "If him and I could be together, it would be awesome because we get along so well. And if I thought that was the case that he would be in some sort of danger, I'd really reconsider."
Hamilton will turn 31 this coming May and has been to four straight All-Star Games since joining Texas. He won the 2010 AL MVP.
For more baseball news, rumors and analysis, follow @EyeOnBaseball on Twitter, subscribe to the RSS feed and "like" us on Facebook.