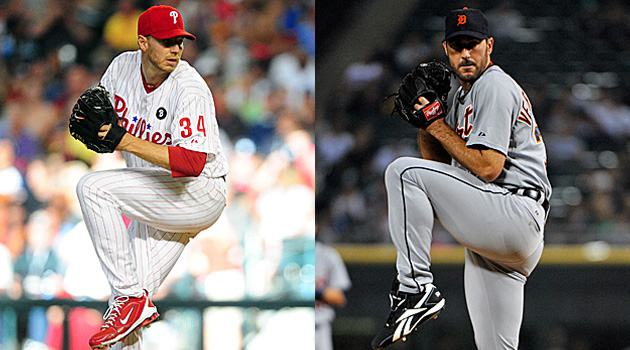 By Matt Snyder
So, the Winter Meetings are far in the rearview, the Hall of Fame voting results have been revealed and we're just over five weeks away from the day when pitchers and catchers report to camp. With a very few free agents still lingering on the market --
I'm looking right at you, big boy
-- we can't exactly start ramping up predictions, either. So let's do this instead: Argue. We'll start a series of posts where we set the table for you fans to vote in a poll and then argue below in the comments section. Who would you rather have? We'll pit two players of close value against each other and let you make the call.
Today, since it's the start of the series and we need something explosive, how about deciding if you'd rather have
Roy Halladay
or
Justin Verlander
.
The case for Halladay
Doc has been one of the most dominant pitchers in baseball for the better part of a decade. If you didn't know much about him until he was traded to the
Phillies
, you either live in a very limited baseball world, don't play fantasy baseball or both. All the way back in 2002, a young Halladay was going 19-7 with a 2.93 ERA (a freaking 159 ERA-plus, people). The following year he won the Cy Young award. After injuries sidetracked him a bit for the next two seasons, Halladay went on a ridiculous run.
For the past six seasons, Halladay has averaged the following line (again, this is an average): 18-8, 2.86 ERA, 1.10 WHIP, 187 strikeouts, eight complete games, two shutouts and 236 innings. His finishes in Cy Young voting in those six years: 3, 5, 2, 5, 1, 2.
He's doing it in the playoffs, too, as Halladay threw a no-hitter in his first career postseason start and has a 2.37 ERA and 0.74 WHIP in 38 postseason innings. This is something you could use to denigrate Verlander, too, as he sports a 5.57 ERA and 1.55 WHIP in 42 career postseason innings.
The case for Verlander
Much like Halladay, Verlander keeps his bullpen well-rested. He's averaged 238 innings pitched the past three seasons with 11 complete games and three shutouts (two of those no-hitters).
Verlander is coming off a transcendent season, one in which he won the Cy Young
and
MVP, while leading the leads in wins, ERA, innings, strikeouts, WHIP, hits allowed per nine innings and 100-mph fastballs later than the seventh inning (among starters). Just watching this guy work leaves you in awe. How can he crank it up to 100 in the eighth or ninth after having thrown over 100 pitches in 95-degree heat in the middle of the summer? He's like a freak of nature for avoiding injury with that kind of action, too, as he's made at least 30 starts every year since being a full-time starter (when he won Rookie of the Year in 2006). And while Halladay is pretty much already guaranteed a spot in Cooperstown, it's easy to see Verlander heading that way as well.
Finally, while their salaries are a wash (both making right around $20 million per year for the next two -- Verlander for a third and Halladay has a vesting option for a third), Verlander will be 29 this season. Halladay will turn 35 in May. So if you're saying who would we want from this point forward -- which, I mean, that's pretty obvious, right? -- do you want a 29-year-old Verlander coming off the best season in recent memory or a 35-year-old Halladay?
On the other hand, Verlander's ERA hovered between 3.37 and 3.66 in his good seasons before last year -- we'll even do him the courtesy of throwing out that dreadful 2008 season. You could argue last season was his career year and he'll regress from being out-of-this-world dominant back to merely (please note sarcasm) being a stud who makes the All-Star Game and gets Cy Young votes every year.
Our call
Man, it's just such a toss up. I think I'd go with
Verlander
only because of age, but if he ends up being more 2009-10 again instead of the monster we saw in 2011, Halladay is better. We started off with this one because it's one of the toughest calls, pitting the current two best pitchers in baseball. There definitely isn't a wrong answer. Vote and discuss with impunity.
Fan Vote:
For more baseball news, rumors and analysis, follow @EyeOnBaseball on Twitter, subscribe to the RSS feed and "like" us on Facebook.