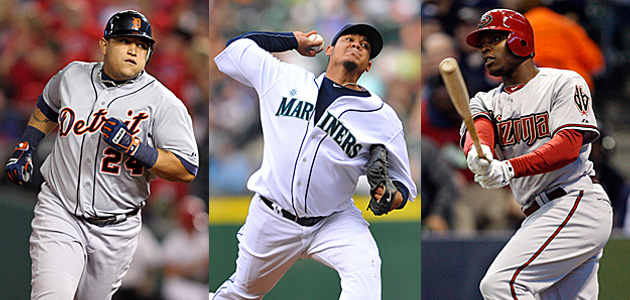 By Matt Snyder
T-minus two days until the Hall of Fame vote for the 2012 induction is unveiled, so we'll continue talking about the Hall of Fame in this relatively slow time of the year. This time around, we'll take a look at active players younger than 30 who have laid a foundation that makes a run to Cooperstown possible.
Now, make no mistake about it, none of these players are close to having completed their big-league careers nor are they currently close to being locks to the Hall of Fame. Still, some are well on their way and others have started a journey that may push them into the discussion in a decade or so.
Obviously things could change in just one season -- just take a look below at a certain catcher from Minnesota. Or think about how good it looked for
Grady Sizemore
three years ago at this time before injuries completely derailed him. And we have to understand that just a few seasons of being an elite player doesn't necessarily mean the longevity will be there -- take the cases of Fernando Valenzuela and Dwight Gooden, for example. For various reasons, careers can get off track. Still, it's fun to take a look at which young players have built a possible Hall-of-Fame foundation.
By no means is this an exhaustive list, but here are 20 under-30 guys who could be on the right track, in alphabetical order (age in parentheses):
Miguel Cabrera (28)
- The first name we list might well be the most impressive case on here. In eight full seasons (he appeared in 87 games as a rookie) Cabrera has been an All-Star six times and finished in the top five of MVP voting five times. He's hit .317/.395/.555, which is good for a 149 OPS-plus. Saying Cabrera is just about halfway through his career is probably reasonable and he already has 277 homers and 984 RBI.
Robinson Cano (29)
- He wouldn't have appeared on this list until the past two seasons, but Cano has grown into one of the more dangerous hitters in baseball. He'd need to continue this pace for another six to eight years at least before being a Hall candidate, though.
Prince Fielder (27)
- Six full seasons -- with 39 games in '05 -- have yielded 230 homers and 656 RBI. Fielder also has an impressive .390 on-base percentage and a whopping .929 OPS (143 OPS-plus). He's already finished in the top four of MVP voting three times. Can his robust body hold up long-term? If it does, he's probably headed to Cooperstown. Baseball-Reference.com's top similar statistical player through age 27 is Hall of Famer Eddie Murray.
Adrian Gonzalez (29)
- Did he get started too late? Gonzalez didn't become a full-timer until '06 and wasn't a dominant force until '09. Still, four All-Star Games, three Gold Gloves and two Top 10 finishes in MVP voting. He also has a career .889 OPS (140 OPS-plus) and over 1,100 hits already.
Felix Hernandez (25)
- We've seen so many pitchers flame out over the years after huge starts -- I mentioned two in the intro -- but King Felix basically only needs to stay healthy and keep his head on straight. He's already 85-67 with a 3.24 ERA, 1.22 WHIP and 1,264 strikeouts. He has one Cy Young and also finished second once. And he could conceivably pitch 15 more seasons. Even conservatively -- assuming health -- you have to say he has 12 more in him.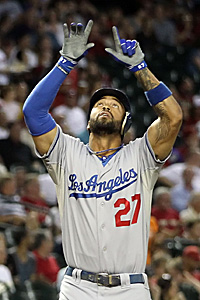 Matt Kemp (27)
- After a runner-up finish in MVP voting this past season, Kemp inked a huge contract with the
Dodgers
. He could be the face of the franchise for a decade. The power-speed combo (128 HR, 144 steals) along with a Gold Glove shows he can do it all.
Clayton Kershaw (23)
- He went 21-5 with a 2.28 ERA, 248 strikeouts, an All-Star appearance and a Cy Young award last season. At 23. Enough said.
Tim Lincecum (27)
- Two Cy Youngs, four All-Star appearances and a World Series ring so far. Not too shabby. Like Hernandez, Kershaw and all other great young pitchers, health and avoiding major off-field trouble are the biggest roadblocks. But there is serious foundation and talent here. I wouldn't bet against Lincecum.
Evan Longoria (26)
- He's going to be the face of the
Rays
for a long time and his arrival coincided with them shedding the laughingstock label. The 2008 AL Rookie of the Year has three All-Star appearances, two Gold Gloves and a Silver Slugger. His 136 OPS-plus bodes well. But his average dropped 50 points last season. Harbinger or aberration? I'd guess the latter.
Joe Mauer (28)
- Would've seemed a lot more firm here last year at this time. The disaster of a season doesn't erase the amazing good Mauer did through the first six-plus seasons in his career, but it raises health questions moving forward. His bat means a whole lot less if he's playing first base instead of catching.
Andrew McCutchen (25)
- He already has 95 doubles, 19 triples, 51 homers and 78 stolen bases. He has an .822 OPS (123 OPS-plus). What if he gets even better and is the driving force behind a complete
Pirates
turnaround?
Dustin Pedroia (28)
- The 2007 Rookie of the Year followed up that act with a 2008 MVP. He's hitting .305/.373/.463 in his six-year career, while he's also won a World Series ring, two Gold Gloves and been to the All-Star Game three times.
Hanley Ramirez (28)
- He would've been one of the best bets two years ago, but he's now mired in a two-year decline. Goes to show how quickly things can change. Of course, there's plenty of time to get back to 2007-09 form.
Jose Reyes (28)
- In six "full" seasons (we'll say at least 125 games played), Reyes has been among the best players in baseball. There's no questioning that. Can he stay on the diamond enough to make himself a viable Hall candidate? It doesn't look great, but the talent is there.
Troy Tulowitzki (27)
- Tulowitzki brings in three straight top-eight finishes in MVP voting and is the premier defensive shortstop in the National League. He really only has four seasons worth counting toward a possible Hall induction so far, though, so he's gonna need about eight to 10 more.
Justin Upton (24)
- The potential here is insane. He came in fourth in MVP voting last season and should only get better. Again, there are many ways for younger players to derail, but Upton has all the tools to one day hit Cooperstown. Consider me a believer.
Justin Verlander (28)
- Yes, he's only 28. Verlander already has 107 wins, 1,215 strikeouts, four All-Star appearances (that is, he made the team, not pitched in the game), a Cy Young and, yes, an AL MVP. He was already one of the better aces in baseball, but then went into a new stratosphere last season. If that continues, he's a cinch to make the Hall. We'll see.
Joey Votto (28)
- In just four full seasons, Votto has made a name for himself as a marquee slugger. He won the 2010 MVP and followed it up with a stellar 2011 campaign as well. His career .955 OPS (151 OPS-plus) is incredible and he added a Gold Glove last season, too.
Jered Weaver (29)
- Weaver was quietly really good until last season, and you can now drop the "quietly." He was the All-Star Game starter and could have easily won the Cy Young Award, if Verlander didn't happen to be putting up a historic season in the same league. In six seasons, Weaver is 82-47 with a 3.31 ERA and 977 strikeouts. Considering his age, though, this is a pretty tall order. He'll need another eight years of dominance, I'd guess.
David Wright (29)
- I think I would have felt pretty good about him after 2008, but he's fallen off a slight bit since then. Perhaps the change in the ballpark dimensions helps, in addition to some health -- for himself
and
teammates. Wright does already have five All-Star appearances and a .300/.380/.508 line with 183 homers and 151 steals.
---
I think my four best bets right now would be, in no particular order: Verlander, Cabrera, Hernandez and Upton. Could be a lot more, could be a lot less. All 20 of these guys have plenty of time to either build a resume or screw it up. History tells us there's no chance all 20 make the cut, and even guessing half of these guys getting to Cooperstown is a big stretch.
Feel free to add more names in the comments, as there definitely isn't a wrong answer in this department.
Coming Sunday:
"Asterisk" guys with Hall-type resumes
Monday:
2012 Hall of Fame inductee(s) announced
Monday:
Looking ahead at the 2013 first-year eligibles
Monday:
Looking at the '14, '15 and '16 first-year eligibles
For more baseball news, rumors and analysis, follow @EyeOnBaseball on Twitter, subscribe to the RSS feed and "like" us on Facebook.