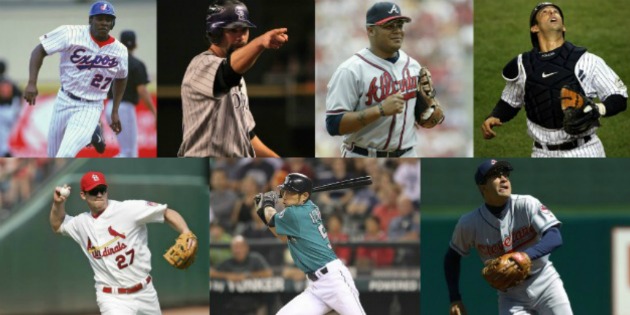 By C. Trent Rosecrans
It's Hall of Fame season, so instead of whining about how other people vote and hiding our ballot envy behind the safety of snark and namecalling, the Eye on Baseball team is looking ahead to future Hall of Fame classes.
Yesterday, Matt Snyder looked at five sure-fire, no-doubt, if-their-career-ended-today active Hall of Fame players
.
Today, we'll look at what makes the Hall a little bit more fun -- the borderline guys. These are guys that if their career ended today would have an argument for the Hall of Fame and could get in or may not. What makes it a little more fun is that Matt and I couldn't even agree on the lists -- so here we go.
Vladimir Guerrero -- Guerrero's best years were in Montreal, where he was invisible to most baseball fans, like Tim Raines and Andre Dawson before him. Still, Guerrero has made nine All-Star teams and won the American League MVP in 2004, his first season outside of Montreal. Through 16 seasons, Guerrero has 2,590 hits and 449 home runs. At this point, it seems like he just doesn't have enough in the tank to get to 3,000 and 500 -- marks that would make his chances much better. Still, he's a career .318/.379/.553 hitter and has a career OPS+ of 140. He also has a career WAR of 59.2 (according to Baseball-Reference.com).
If Guerrero's career ended now (which isn't a stretch, considering he's currently not under contract and is limited to DH), he'd be one of six players to finish their career with more than 400 home runs and a career batting average better than .315, joining Babe Ruth, Jimmie Foxx, Ted Williams, Lou Gehrig and Stan Musial. Guerrero had 12 seasons with a .300 average and more than 25 homers -- only Williams (14), Ruth (14) and Hank Aaron (13) have as many as Guerrero.
Todd Helton -- Like Guerrero, it appears that he'll fall just short of the magic numbers of 3,000 hits and 500 homers. Helton, 38, has 2,363 career hits and is coming off another .300 season, but needs another 637 hits to get to 3,000 -- and over the last five seasons he has 663 hits. While he's signed through the next two seasons and could play into his 40s, his recent back problems make it seem like he's unlikely to get there.
Helton's a career .323/.421/550 hitter -- with his .421 on-base percentage the highest among active players. Helton made five straight All-Star teams from 2000-2004, finishing int he top 10 in MVP voting in three of those years. He also won four Silver Sluggers and three Gold Gloves, all during that same period.
The biggest strike against Helton, though, is where he played. All 15 of his seasons have been with the Rockies and he's certainly benefitted by playing half of his games in Colorado. His career splits are .354/.451/.620 at home and .291/.391/.478 on the road. It should be pointed out those are still pretty darn good numbers -- another Hall of Fame first baseman, Tony Perez, hit .279/.391/.463 in his career. Overall, Helton has a career OPS+ of 136. That number accounts for not only what other players are doing, but also includes park factors. Helton's career WAR, according to Baseball-Reference.com, is 59.9 -- better than Dave Winfield, Richie Ashburn, Willie Stargell and Hank Greenberg, among other Hall of Famers.
Andruw Jones -- The knee-jerk reaction to Andruw Jones and the Hall of Fame is of course not -- the thought just doesn't seem right. Instead, for many, Jones represents the squandering of talent, not the Hall of Fame. Jones came up at 19 and immediately made an impact in the 1996 World Series.
Jones is just a career .256/.339/.488 hitter and will need a couple more years in his current role of a fourth outfielder to get to 2,000 hits. He does have 420 homers, but hit just .256/.339/.448 in his first 16 seasons in the big leagues.
But then there's the defense. Jones is a 10-time Gold Glove winner in center field, but that only starts to tell how good Jones was defensively in his prime. In a Hall of Fame discussion, it may be best to compare Jones to Ozzie Smith -- another transcendent defensive player. Smith was a career .262/.337/.328 hitter, with Jones' power numbers more than making up for the difference in batting averages. While shortstop is unquestionably the most important defensive position on the field, center field is probably second. And at his prime, there's probably no center fielder as good as Jones.
Overall, Jones checks in with a 60.4 career WAR from Baseball-Reference, but FanGraphs.com's formula rates him even higher, at 71.7. Both numbers are inflated by defense, but few players were ever as good as Jones was defensively.
Jorge Posada -- Posada's always been lumped in with Derek Jeter and Mariano Rivera as the trio came up with the Yankees at the same time in the mid-90s and were parts of not only the late-90s World Series dynasty, but also the team's run in the 2000s. While Posada isn't a slam-dunk like Jeter and Rivera, he has a case.
In his 17 seasons, all with the Yankees, Posada hit .273/.374/.474 with 275 home runs and 1,664 hits. He's not going to reach any of the magical numbers, but as a catcher, those are tough to achieve. Over his career, he has an OPS+ of 121 and a WAR of 44.7. His career OPS+ is better than Carlton Fisk and Gary Carter, the last two catchers inducted in Cooperstown.
While many can point to his participation in so many postseason games, he was hardly a great player during the fall, hitting .248/.358/.387 with 11 home runs and 42 RBI in 125 career postseason games. In 29 World Series games, Posada hit just .219/.333/.333 with two homers.
Defensively, Posada probably wasn't as bad as his reputation, but he was hardly Ivan Rodriguez, his contemporary -- and along with Johnny Bench one of the top two defensive catchers ever.
Scott Rolen -- Really. He's not the type that you think of when you think of Hall of Famers. Some people -- and I used to be one -- say you know a Hall of Famer when you see one. And Rolen never fit in that mold. He was always seen as good, but maybe not great. But when you look at his career as a whole, he certainly merits discussion and consideration.
While Rolen's counting stats of 2,005 career hits and 308 homers and the fact he'll be 37 in April mean he's unlikely to hit the big milestones, has a .282/.366/.494 career line with an OPS+ of 123. He has a Silver Slugger to his resume, was the 1997 Rookie of the Year and finished fourth in the 2004 MVP voting.
Third base is the most underrepresented position in the Hall of Fame, and Rolen may not be Mike Schmidt or George Brett, but he does rank up with the best to ever play the position. Of players who played more than 50 percent of their games at third base, only three third basemen have 2,000 hits, 300 home runs, 1,200 RBI and 500 doubles -- Brett, Chipper Jones and Rolen.
And then there's the case of defense -- Rolen has been an outstanding defensive third baseman his entire career, winning eight Gold Gloves. Only Brooks Robinson and Schmidt have more Gold Gloves at third than Rolen.
Ron Santo will get his well-deserved enshrinement in Cooperstown this summer, and the two have similar career numbers. Santo hit .277/.362/.464 with 2,254 career hits, 342 homers and five Gold Gloves. Santo's career OPS+ was 125.
Rolen's career WAR is 66.2 according to Baseball-Reference.com, tied with Craig Biggio and just behind Gary Carter (66.3) and Santo (66.4) and better than Willie McCovey (65.1) and Ernie Banks (64.4).
Ichiro Suzuki -- While I seem to think if the border is located in Brownsville, Ichiro is Houston -- and at the very least Corpus Christi. But Matt thought differently, so I guess that makes him ineligible for the "no doubt."
Leave aside for the moment Suzuki's accomplishments in Japan -- in just the United States, Suzuki has 2,428 hits, 423 stolen bases and a .326/.370/.421 line. He's also been named to 10 All-Star games, won two batting titles, won the MVP in 2001, the same year he won the Rookie of the Year, and has finished in the top 10 of MVP voting four times and in the top 20 eight times. He also has 10 Gold Gloves and three Silver Sluggers. He also had more than 200 hits in each of his first 10 seasons in the United States, leading the majors in that category seven times.
Honestly, like I said, I'm not sure why he's on this list and not the "no doubt" list. Maybe his career WAR is a little low at 54.5 (according to BaseballReference.com), but remember that's just 11 years.
Suzuki is 38 and will likely play at the least two more years and with three, he's nearly a lock to get to 3,000 career hits in the United States. If he gets to 3,000 in the big leagues, he'll have 4,278 career hits combined between Japan and the United States.
Omar Vizquel -- Only Ozzie Smith has more Gold Gloves at shortstop than Vizquel's 11, and if any shortstop can be mentioned in the same breath as Smith defensively, it's Vizquel.
The two are also similar offensively. Vizquel's career line is .272/.337/.353 with an OPS+ of 82, picking up 2,841 hits, while stealing 401 bases. Smith was a career .262/.337/.328 hitter with an OPS+ of 87, accumulating 2,460 hits, while stealing 580 bases.
Vizquel has just one top 20 MVP finish, while Smith had four. Smith also had 15 All-Star nods to Vizquel's three, but Vizquel played in the post-Cal Ripken era when more was expected offensively out of shortstops.
Vizquel will be 45 in April and hopes to play another season, but it seems unlikely he'll be able to get the 159 hits he needs to get to 3,000 and make him an easier choice.
Wednesday: Surefire active Hall of Famers
Coming Friday: Players over 30 who have a shot of getting there with a few more good years
Saturday: Players under 30 building a good foundation
Sunday: Asterisk candidates -- on-field numbers good enough but PED issues cloud matters
For more baseball news, rumors and analysis, follow @EyeOnBaseball on Twitter, subscribe to the RSS feed and "like" us on Facebook.