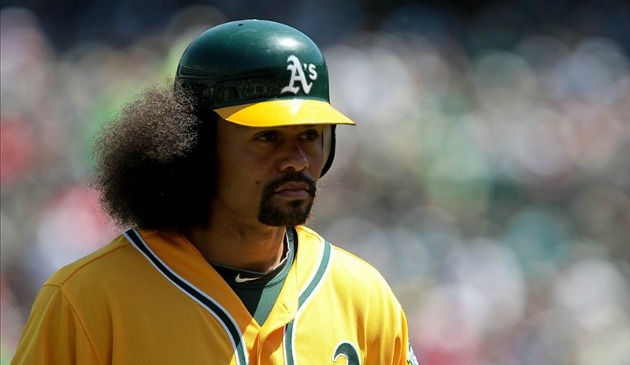 By C. Trent Rosecrans
Coco Crisp is returning to Oakland pending a physical, CBSSports.com's Jon Heyman confirms.
The outfielder has agreed to a two-year deal worth $13 million and a club option for $7.5 million in 2014 with a $1 million buyout, ESPN.com's Buster Olney tweets.

FREE AGENT TRACKER
Crisp had been garnering interest from several teams and said Monday that he'd made a decision, but hadn't told the team yet. That team will be his old team.
Last year Crisp, 32, hit .264/.314/.379 with eight home runs and a league-leading 49 stolen bases. In parts of 10 seasons with the Indians, Red Sox, Royals and A's, Crisp is a career .275/.330/.406 hitter.

Crisp was one of the few true center fielders on the free agent market, so several teams other than the A's reportedly had interested. The Orioles, Cubs, Cardinals and Dodgers had been rumored to have some level of interest in Crisp, who will instead stay in Oakland. Geography -- not to mention a guaranteed $14 million -- also may have played a part in Crisp's return to the A's. A Los Angeles native, Crisp reportedly wanted to stay in the state of California.

The outfield market now hinges on Cuban Yoenis Cespedes, while there are also some corner outfielder types available, like Cody Ross, J.D. Drew, Ryan Ludwick, Kosuke Fukudome, Raul Ibanez, Jonny Gomez, Juan Pierre and Magglio Ordonez. As for a center fielder, Corey Patterson is also available, but that's not going to excite too many teams.

As for the A's, they keep their leadoff man, but at a price. Crisp will reportedly make $6 million in 2012 and $7 million in 2013. So far this offseason, the A's focus has been on shedding contracts and spending less money. Crisp's contract is in line with several other outfielders signed this winter -- just below Jason Kubel's two-year, $15 million deal with the Diamondbacks and more than Grady Sizemore's one-year, $5 million deal with Cleveland.

Crisp should hold down center field for Oakland, with newly acquired Josh Reddick in right and a battle in left between prospects Michael Taylor, Chris Carter and Collin Cowgill, who was part of the trade that sent Trevor Cahill to Arizona. Oakland could also dip into the free-agent market for another outfielder to try to round out the roster, but general manager Billy Beane has already said the team would be spending most of its money in the draft and international signings for next season. It wouldn't make sense for the A's, who are committed to rebuilding, to bring in anything more than a stopgap measure for left field -- although, at this point that may be all that's left.
For more baseball news, rumors and analysis, follow @EyeOnBaseball on Twitter, subscribe to the RSS feed and "like" us on Facebook.