By Matt Snyder
One week from today we will learn who -- if anyone -- will join Ron Santo in the 2012 Baseball Hall of Fame class. The Baseball Writers Association of America votes have all been mailed in, as a Dec. 31st or earlier postmark is required. Everyone who has been a member of the BBWAA for at least 10 years has a chance to vote. Players receiving 75 percent of the vote will be inducted.
Here's a complete look, in alphabetical order, at who the BBWAA voters were given to consider: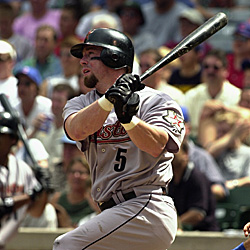 Jeff Bagwell
-- He won the Rookie of the Year in 1991 and the MVP in 1994. The four-time All-Star garnered MVP votes in 10 of his 15 seasons. He ended his career with more than 1,500 runs and RBI while hitting 449 homers. His .948 OPS is outstanding, resulting in an OPS-plus of 149. Bagwell received 41.7 percent of the vote last season, his first on the ballot.
Jeromy Burnitz
-- The one-time All-Star received MVP votes three times. He hit 315 home runs with an .826 career OPS.
Vinny Castilla
-- A two-time All-Star and three-time Silver Slugger, Castilla hit 320 home runs and drove home 1,105 runs in his 16-year career. He hit at least 40 homers three straight seasons, 1996-98.
Juan Gonzalez
-- Juan Gone is one of the few players in major-league history to win two MVP awards, as he took home the honors in both 1996 and 1998. He finished in the top 10 of MVP voting three other seasons. He finished with 434 home runs and 1,404 RBI, having accrued at least 35 homers and 100 RBI in seven of his 17 seasons.
Brian Jordan
-- The former NFL player hit .282 during his 15-year career, making the All-Star team in 1999. He was also a very good defensive outfielder.
Barry Larkin
-- The 12-time All-Star is the most likely player to be inducted this year. He received 62.1 percent of the vote last year and doesn't really face any stiff competition from first-timers this year. He won one MVP, three Gold Gloves and nine Silver Sluggers. He also stole 379 bases while hitting 198 homers, 441 doubles and 76 triples.
Javy Lopez
-- The long-time
Braves
catcher hit 260 home runs in his 15-year career, making three All-Star teams. He finished fifth in MVP voting and garnered a Silver Slugger after his 2003 season, in which he hit 43 homers and drove in 109 runs.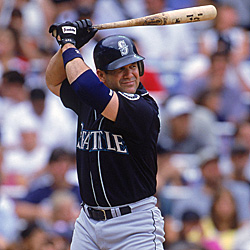 Edgar Martinez
-- The seven-time All-Star is one of the greatest designated hitters of all-time. He hit .312 with a .418 OBP and .515 slugging throughout his career, all of which are outstanding. Martinez actually ranks 64th in baseball history with 66.9 offensive Wins Above Replacement (oWAR) and 34th all-time in OPS. His 514 doubles rank him 45th. But Martinez only received 32.9 percent of the vote last season, a step backward from the 36.2 percent he got in his first try. The issue is him not playing defense. We'll see how that shakes out in the coming years, but it's a huge stretch to believe he gets in this year.
Don Mattingly
-- Donnie Baseball is just treading water, having received between 9.9 and 28.2 percent of the vote in his 11 years on the ballot. Longevity seems to be the issue, as he played just 14 seasons and was out of baseball by age 35. The six-time All-Star finished in the top seven of MVP voting four straight times and racked up 1,099 RBI and 1,007 runs, along with nine Gold Gloves.
Fred McGriff
-- Did Crime Dog fall seven home runs short of induction? He hit 493 in his 19-year career and received only 17.9 percent of the vote last year. The five-time All-Star also racked up 1,550 RBI and a nice .886 OPS (good for a 134 OPS-plus).
Mark McGwire
-- Twelve All-Star Games. One Rookie of the Year. A whopping 583 home runs. A staggering .982 OPS and 162 OPS-plus. Five top-10 MVP finishes. A World Series ring and a Gold Glove. And yet Big Mac hasn't been able to top the 23.7 percent barrier in Hall of Fame voting due to his connection to using performance-enhancing drugs during his career. The question here isn't anywhere close to performance. It's all about the performance-enhancement. If you believe he should be excluded, that's why. If you don't care about the use, you believe he should be inducted into the Hall. Period.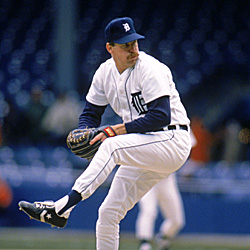 Jack Morris
-- Morris has worked his way up to 53.5 percent of the vote as of last time around, his 12th on the ballot. Players only get 15 chances, so he's running out. Morris won 254 games and three World Series rings in his career. He finished in the top five of Cy Young voting five times and struck out 2,478 hitters. His 3.90 career ERA seems to be hurting him, though.
Bill Mueller
-- Mueller won the batting title in 2003 and had a nice 11-year career.
Terry Mulholland
-- He stuck around for 20 seasons, racking up over 2,500 innings pitched with 46 complete games and 10 shutouts. He was 124-142 with a 4.41 ERA.
Dale Murphy
-- The seven-time All-Star and two-time MVP hit 398 homers and ended with an .815 OPS (121 OPS-plus). He also won five Gold Gloves and four Silver Sluggers. He hasn't been able to garner strong support with the BBWAA, though, as he had just 12.6 percent of the vote last season, his 13th on the ballot.
Phil Nevin
-- The one-time All-Star hit 208 career home runs with an .814 OPS (114 OPS-plus) in his 12-year career.
Rafael Palmeiro
-- Much like McGwire, Palmeiro's on-field numbers are surefire Hall material. It's not even a discussion. Unlike McGwire, however, Palmeiro failed a league-sanctioned drug test. He got only 11 percent of the vote last year.
Brad Radke
-- In 12 seasons, Radke went 148-139 with a 4.22 ERA and 1.26 WHIP. He made the All-Star team in 1998.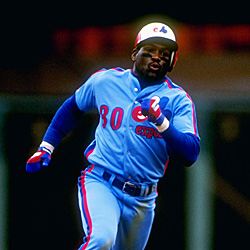 Tim Raines
-- Raines was a seven-time All-Star who hit .294 with a .385 OBP in his career. He compiled more than 2,500 hits and 1,500 runs in his 23-year career and ranks fifth all-time with 808 stolen bases. Several advanced stats loved Raines, as he ranked in the top 10 in his league in WAR seven times. Raines got 37.5 percent of the vote last season, the third straight season he's made a decent-sized jump in votes (he got 22.6 percent in 2009).
Tim Salmon
-- The 1993 Rookie of the Year hit 299 homers in his 14-year career, netting MVP votes three times. He had an .884 OPS (128 OPS-plus).
Ruben Sierra
-- In 20 seasons, Sierra racked up 2,152 hits, 306 homers and four All-Star appearances.
Lee Smith
-- With 478 career saves, Smith was the all-time leader for a stretch, but both
Trevor Hoffman
and
Mariano Rivera
have breezed past him, into the 600s. Smith was a seven-time All-Star and had a career 3.03 ERA.
Alan Trammell
--
My colleague Scott Miller made his case for Trammell
.
Larry Walker
-- A five-time All-Star, seven-time Gold Glover and the 1997 MVP, Walker hit .313 with a .965 OPS (140 OPS-plus) in his 17-year career. He ended with 383 homers and over 1,300 runs and RBI. He's in the top 100 ever in WAR and 16th of all-time in OPS. Did his 10 years in hitter-friendly Colorado hurt Walker with the voting? Looks like it. He only got 20.3 percent of the vote last year.
Bernie Williams
-- Five All-Star games, four Gold Gloves and a career .297 batting average look good for the long-time Yankee center fielder. He hit 287 homers and scored over 1,300 runs to go with an .858 OPS (125 OPS-plus).
Tony Womack
-- The one-time All-Star hit .273/.317/.356 in his 13-year career with 363 stolen bases.
Eric Young
-- EY lasted 15 seasons, racking up 465 steals and 996 runs with a .359 OBP. He made one All-Star team.
For more baseball news, rumors and analysis, follow @EyeOnBaseball on Twitter, subscribe to the RSS feed and "like" us on Facebook.