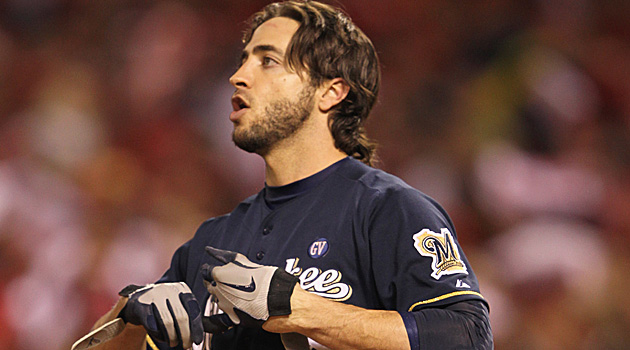 By Matt Snyder
Ryan Braun
may be
itching to tell his side of the story
, but having his appeal upheld is very unlikely, according to a report from the
Milwaukee Journal-Sentinel
. The details:
An MLB official told me there are only two ways for Braun to win his appeal: Prove there was a lab error with the testing or say the Brewers signed off on the treatment.

I was told to forget proving a lab error because the system is designed to prevent such an occurrence. Each player's urine sample is divided into two samples. The first is tested and if it's positive for any banned substance, the second sample is put through a more rigorous, comprehensive testing regimen to assure the result is valid.

The MLB official also told me that the Brewers did not sign off on whatever substance Braun took. So, it's unlikely that excuse would be used during the appeal process.
The biggest problem with hoping to have the 50-game suspension overturned, according to the report, is that it doesn't matter why Braun took a banned substance. Even if it was accidental or he didn't know a certain substance was against the rules, the only thing that matters is that he took a substance and violated the MLB rule. He has proclaimed his innocence due to not believing what he took was "performance-enhancing" and that he has a prescription for a personal medical condition. Again, though, it's reportedly unlikely that either of those reasons will matter in the appeal.
Braun, 28, won the NL MVP in 2011 after hitting .332/.397/.597 with 33 homers and 111 RBI for the NL Central champion Brewers. But a positive drug test has him facing a 50-game suspension to open the 2012 season. According to the above referenced report, the Brewers are preparing to have Braun miss those 50 games, so they don't sound confident his side of the story will clear his name with the MLB.
For more baseball news, rumors and analysis, follow @EyeOnBaseball on Twitter, subscribe to the RSS feed and "like" us on Facebook.