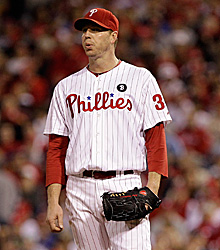 By Matt Snyder
Is there anything
Roy Halladay
can't do?
The
Phillies
ace, who was runner-up in the NL Cy Young voting this past season, recently went on a fishing trip in Brazil with friends
Chris Carpenter
and B.J. Ryan. While on the Amazon River, Halladay helped rescue a man who had been wounded by an anaconda. The news was passed along by Skeet Reese, who is a Bassmaster champion, on his blog. Here's an excerpt:
We had plenty of wildlife encounters though. Along with the fishing, we decided to go hunting one night, and Carpenter and B.J. both shot a caiman; which is like an alligator. Me and Doc Halladay even came across a local, sitting bare naked on a tree by the river. What we were able to figure out is that he was fishing in the river for tropical fish to sell for aquariums when he got attacked by an anaconda.

The snake apparently bit him on the a** but he was able to free himself before the snake wrapped him up. Instead the snake wrapped around his motor on the back of his little 14 foot dugout canoe and tore it off the back of his boat. Doc and I helped him gather his gear and flip the boat back over and then towed him home. You could definitely see the bite mark on his a**, but he was able to fight it off; amazing.
Amazing, indeed.
Anacondas are among the largest snakes in the world. While they aren't venomous, they wrap themselves around their prey and literally squeeze the life out of said prey. It's unreal that this local fisherman lived though an encounter. And, of course, you have to give Halladay and Reese kudos for helping the guy get outta there. They had to be fearful the snake would return, right?
Also, you gotta give props to Carpenter and Ryan for taking down a caiman.
And all three now have off-field stories they can tell the rest of their lives.
Hat-tip:
Big League Stew
For more baseball news, rumors and analysis, follow @EyeOnBaseball on Twitter, subscribe to the RSS feed and "like" us on Facebook.