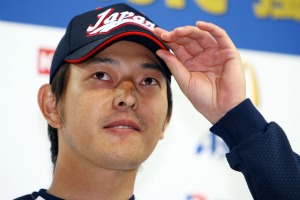 By C. Trent Rosecrans
The Mariners are close to signing Japanese right-hander Hisashi Iwakuma, according to Nikkan Sports (via YakyuBaka.com).

FREE AGENT TRACKER
The A's won the bidding for Iwamura's posting fee last offseason, but were unable to reach an agreement with him in the 30-day window, so he returned to Japan for the 2011 season, where he went 6-7 with a 2.42 ERA in 17 games. In parts of 11 seasons in Japan, he went 107-69 with a 3.25 ERA and started three games -- including the championship game -- for Japan in the 2009 World Baseball Classic. In the WBC, he finished with a 1.35 ERA in three starts, two against South Korea and one against Cuba.
Iwakuma, 30, was limited by right shoulder problems in May, but went on to pitch well the rest of the season. Iwakuma exercised his international free agent option, allowing him to sign with any Major League team.
There had been reports that as many as five teams had interest in Iwakuma, and then recently the number was listed at four, including the A's, Twins and Mariners. The Pirates and Nationals were also rumored to be interested in Iwakuma at some point.
For more baseball news, rumors and analysis, follow @EyeOnBaseball on Twitter, subscribe to the RSS feed and "like" us on Facebook.