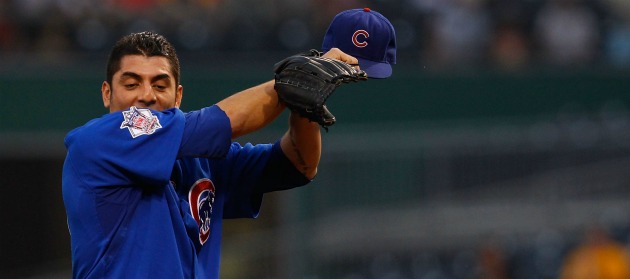 By C. Trent Rosecrans
If I'm Matt Garza, I'm not getting too comfortable in Chicago.
During Friday's conference call to announce the trade of Sean Marshall to Cincinnati, Cubs president Theo Epstein said, "I don't think we're done" and "generally we're int he business of taking short-term assets and turning into long-term assets."
Reading between the lines it means Epstein knows the Cubs are going to stink in 2012 and hope to have a team that doesn't stink in the future.
Epstein said the team was looking at building depth in the rotation at both the minor-league and major-league levels, noting they would have "to make sacrifices."
Epstein was asked about Garza, who has been rumored to be on the trade block.
"Matt Garza is the type of pitcher you want to build around," Esptein said (via ESPNChicago.com). "He's a proven top-of-the-rotation guy, a proven performer in the playoffs. I think last year he had his best season, all things being equal.
"It's hard to find top-of-the-rotation guys, so if you have them, and if there's a way to keep them around, that's always compelling for the club. With that said, we've been honest. We are in a mode where we have to listen on everybody. And if there's a way to improve the long-term outlook for this club in a significant manner, we can't look past opportunities."
Epstein added the team isn't in the place where the team has to deal Garza, but as the market has shown recently with the Mat Latos and Gio Gonzalez trades, starting pitching is the most valuable commodity on the market right now and can bring back several pieces in return.
Garza made $5.9 million last season and is due a raise through arbitration for next season and is also arbitration-eligible for the 2013 season before becoming a free agent.
"We'll listen," Epstein said. "Because there's always an active trade market for top-of-the-rotation guys with multiple years of control."
For more baseball news, rumors and analysis, follow @eyeonbaseball on Twitter or subscribe to the RSS feed.