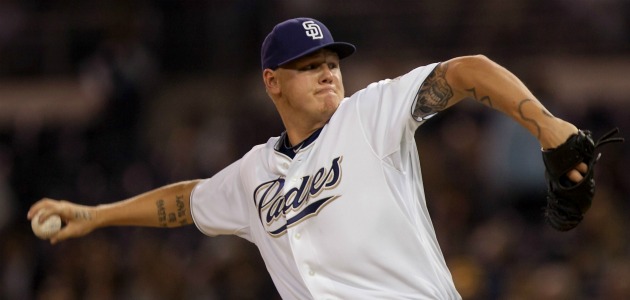 By C. Trent Rosecrans
The Reds have been looking for a top-of-the-rotation starter for the last two years and filled it, but at a deep cost, sending Yonder Alonso, Edinson Volquez, Brad Boxberger and Yasmani Grandal to the Padres for 24-year-old right-hander Mat Latos, the team announced on Saturday.
In Latos, the Reds get a partner for Johnny Cueto at the top of their rotation, something they've desperately needed. Latos, who just turned 24, isn't arbitration-eligible until 2013 and is 27-29 with a 3.37 ERA in three seasons with the Padres. Latos was 9-14 with a 3.47 ERA in 31 starts for the Padres last season, striking out 185 batters in 194 1/3 innings.

"Mat is a big, strong young pitcher with electric stuff," Reds general manager Walt Jocketty said in a release from the team. "We consider him to be a potential number one starter who, contractually, we have under control for four more years. To acquire a pitcher who is ready to fit into the top of a rotation, you have to give up talent."
Alonso hit .330/.398/.545 with five home runs and 15 RBI in 98 plate appearances for the Reds last season. A first baseman, Alonso was blocked in Cincinnati by Joey Votto. He had played some left field hoping to get time there, but he's more suited to first base.

Grandal, a switch-hitting cathcer, was the team's first-round pick in 2010 out of the University of Miami. Boxberger was a potential closer for the Reds this season after being taken in the first round of the 2009 draft. Volquez, an All-Star in 2008, was acquired in the trade that sent Josh Hamilton to Texas.
For more baseball news, rumors and analysis, follow @eyeonbaseball on Twitter or subscribe to the RSS feed.