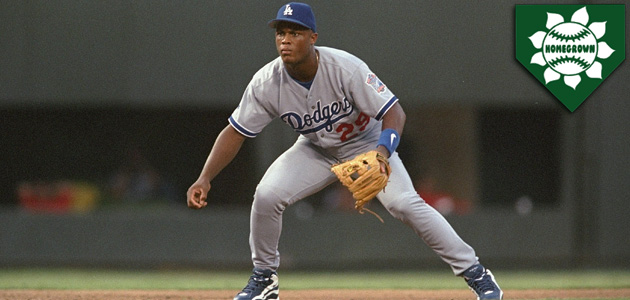 By Matt Snyder
What if players were only permitted to stay with the team that originally made them a professional? No trades, no Rule-5 Draft, no minor or major league free agency ... once you are a professional baseball player, you stay in that organization. This series shows how all 30 teams would look. We give you: Homegrown teams.
To view the schedule/past entries of this feature, click here.
Do the
Dodgers
do well in drafts and international signings? The answer is a resounding yes. What they do with those players could certainly be questioned, but as far as building a foundation, few have been better in recent years. See below.
Lineup
1.
Dee Gordon
, SS
2.
Shane Victorino
, RF
3.
Matt Kemp
, LF
4.
Paul Konerko
, 1B
5.
Adrian Beltre
, 3B
6.
Carlos Santana
, C
7.
Franklin Gutierrez
, CF
8.
Miguel Cairo
, 2B
Starting Rotation
1.
Clayton Kershaw
2.
Edwin Jackson
3.
Ted Lilly
4.
Hiroki Kuroda
5.
Chad Billingsley
If you don't like us using Kuroda -- some commenters have disagreed with including guys who were professional players in Japan in this series -- you can slide in
James McDonald
or the youngster
Rubby De La Rosa
.
Bullpen
Closer -
Joakim Soria
Set up -
Javy Guerra
,
Joel Hanrahan
,
Kenley Jansen
,
Takashi Saito
,
Jonathan Broxton
,
Pedro Feliciano
,
Cory Wade
Long - McDonald
Notable Bench Players
Russell Martin
,
Henry Blanco
,
James Loney
,
Blake DeWitt
,
Trayvon Robinson
,
Jerry Sands
,
Alex Cora
What's Good?
Spoiler Alert: This section is going to be much longer than "what's not." How about starting with the offensive firepower Victorino, Kemp, Konerko, Beltre and Santana bring in the 2-6 spots of the order? That is sick. Gordon has good potential and Gutierrez was a decent hitter before his stomach issues derailed him a few years ago. The starting rotation is good, deep, has a good lefty-righty mix and a true ace sitting at the top. The bullpen is so deep it's unimaginable. It's not as great as the
Yankees
' bullpen (Clippard-Robertson-Axford-Rivera) in this exercise, but this is definitely an elite unit. The bench is pretty damn good, too. Best of all, though, how about the defensive range? Gutierrez was widely considered the best center fielder in baseball before his stomach woes. Victorino is a three-time Gold Glover while he lost out to Kemp this season. I decided to shift Kemp to left because Victorino has a cannon that is an asset in right. Not that Kemp can't throw. This would be one insane defensive outfield. Beltre is the best defensive third baseman in baseball, too. That's a lot of help for an already-good pitching staff.
What's Not?
Anything would be a nitpick. Maybe that Dee Gordon might not yet be ready to lead off for this team? If that was the case, you could move up Victorino and then the bottom of the order becomes a bit weak. But, again, that's a nitpick.
Comparison to real 2011
I kind of chuckled during all the MVP arguments when people would say that Kemp played for a team that "sucks." The Dodgers finished 82-79. Yes, they were out of contention for pretty much all of the season, but they finished above .500, so they definitely don't suck. Of course, those real-life Dodgers couldn't hold a candle to this group. This is a World Series-caliber club, but the funny thing is,
did you see Arizona's team
? The D-Backs lineup is much better, but the Dodgers have the better defense and pitching. We'd have a nice battle for the NL West title and maybe even see a rematch in the NLCS. If only ...
For more baseball news, rumors and analysis, follow @EyeOnBaseball on Twitter, subscribe to the RSS feed and "like" us on Facebook.