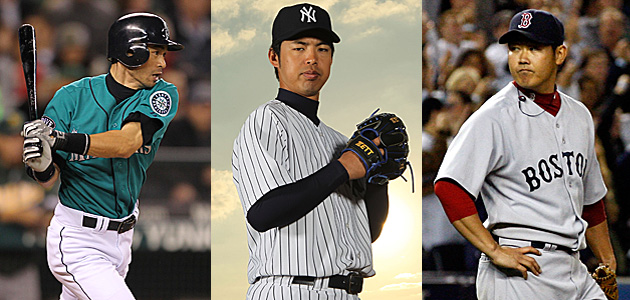 By Matt Snyder
With Yu Darvish having been posted and the deadline to submit bids having passed, we now wait in anxious anticipation to see which team wins the honor to negotiate with the 6-foot-5 right-hander. Due to some of the past failures within the system, there seems to be a certain amount of stigma attached to paying so much money just to negotiate with a player. Let's check out the players who signed major-league contracts after going through the posting system and see how they fared.
Before we get to the players, though, let's clarify a few things. First of all, the posting system didn't begin until December of 1998. So Hideo Nomo, for example, was never posted. Also, not every single Japanese import since 1998 went through the system, either. Players who get to free agency in Japan become international free agents -- this is the route
Hideki Matsui
and
Kosuke Fukudome
, to name two, have taken. International free agents can sign with whatever MLB team they wish and have no posting fee paid to their former teams. And some players went through the posting system and either ended up signing minor-league contracts or not signing at all.
The following eight players did go through the posting process prior to last season and end up with a major-league contract. Let's look at each, chronologically.
(player, year posted, winning team, posting fee paid -- which does not include player salary)
Ichiro Suzuki, 2000, Mariners, $13.125 million
The 10-time All-Star won the MVP his first season in America. He's led the league in hits seven times and sports a career average of .326. He's become a franchise icon and could be headed to the Hall of Fame despite not playing in America until he was 27. So, yeah, this one worked out just fine.
Kaz Ishii, 2002, Dodgers, $11.26 million
The left-handed pitcher lasted just four seasons, with control being a major problem. Ishii led the majors with 106 walks his rookie year and then offered up 101 and 98, respectively the next two seasons. He ended with a 39-34 record, 4.44 ERA and 1.53 WHIP in his MLB career.
Akinori Otsuka, 2003, Padres, $300,000
This couldn't have turned out much better for the Padres. Not only did Otsuka post a sparkling 1.75 ERA, 1.06 WHIP and 87 strikeouts in 77 1/3 innings in 2004, but he was also a valuable member of the 2005 playoff NL West champs. Then, the Padres traded him to the
Rangers
with Adam Eaton in a move that landed both
Adrian Gonzalez
and
Chris Young
(the pitcher). That's a pretty nice return for originally posting less than the current league minimum salary.
Shinji Mori, 2005, Rays, $750,000
The relief pitcher tore the labrum in his throwing shoulder and missed all of the 2006 season. He was then released by the Rays and returned to Japan, having never appeared in a major-league game.
Daisuke Matsuzaka, 2006, Red Sox, $51,111,111.11
Yes, "Dice-K" has been awful for the past three seasons and is now trying to recover from an injury. He might never be a valuable member of a rotation again, but he's still only 31 and did produce for two seasons. He finished fourth in Rookie of the Year voting in 2007, also pitching well in winning Game 3 of the World Series (which the Red Sox would sweep). Then in 2008, Dice-K went 18-3 with a 2.90 ERA and finished fourth in AL Cy Young voting. So, yeah, he's been really bad the past three years, but to call him a complete and utter bust would be a stretch. Over the duration of his deal, he's definitely been way overpaid, but was still valuable for two seasons.
Akinori Iwamura, 2006, Rays, $4.5 million
He was helpful for two seasons for the Rays, including when he was the starting second baseman on the 2008 American League champions. He hit .281 with a .354 on-base percentage during his Rays' career, but he lost his job in 2009 to
Ben Zobrist
and then fizzled in 2010 for both the
Pirates
and A's. Iwamura was released by the A's at the end of the season.
Kei Igawa, 2006, Yankees, $26,000,194
If you want to find a colossal waste of money in the posting system attached to a gigantic bust, this is the guy you're looking for. He's far more a "bust" than Dice-K. In 16 major-league appearances, Igawa went 2-4 with a 6.66 ERA (which just looks eerie, no?) and 1.76 WHIP. And get this, Igawa hadn't pitched in the majors since 2008, yet still made $4 million from the Yankees this past season as he played out the duration of his five-year contract. The left-handed pitcher appeared in four Triple-A games and 16 Double-A games. And the Yankees paid more than $45 million total for him. Wow.
Tsuyoshi Nishioka, 2010, Twins, $5.329 million
It was a season to forget for the skinny middle infielder. Nishioka broke his leg during the first series as
Nick Swisher
took him out on a potential double-play turn. When Nishioka healed up and came back, he was one of the worst offensive players in the majors, hitting .226/.278/.249. He was so bad, in fact, that the Twins went out and signed
Jamey Carroll
to be the everyday shortstop while
Alexi Casilla
will play second. So the posting fee and $9.25 million contract (which is a three-year deal) is for a backup that they definitely never want stepping in the box for any important at-bats. That's money not-very-well spent.
For more baseball news, rumors and analysis, follow @EyeOnBaseball on Twitter, subscribe to the RSS feed and "like" us on Facebook.