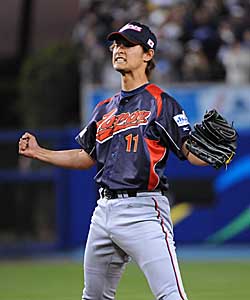 By Matt Snyder
The time in which Major League Baseball teams could place a bid for the rights to negotiate with Japanese pitching phenom Yu Darvish has come and gone. At least one team has done so, according to MLB officials. It's not just one, though. Darvish is coveted.
From here, the team that submitted the highest bid will then pay the fee to the Nippon Ham Fighters for the rights to negotiate an MLB contract with Darvish. The Fighters do have the right to reject such an offer, but it's likely to be lucrative enough that they'll take the money. They have four business days to make a decision, so 5 p.m. ET Tuesday is the deadline.
FREE AGENT TRACKER
If the Fighters do accept the offer, the MLB team with the highest bid will then attempt to sign Darvish. None of the posting bid fee goes to Darvish, so the negotiations are independent. If the team is unable to sign Darvish, they wouldn't have to pay the posting fee.
Major League Baseball won't announce the team with the winning bid until the Fighters have made their decision, but it's possible a reporter uncovers the winner in the meantime.
It's not the
Red Sox
(
per Boston Globe
),
Orioles
(
per MASN.com
), the
Twins
(
per Star Tribune
), the
Rays
(
St. Petersburg Times
),
Angels
(
MLB.com
),
Mets
(
Journal News
),
Giants
(
San Francisco Chronicle
), A's (
San Francisco Chronicle
) or
Marlins
(
Miami Herald
). We'll update this paragraph as more names start to be named as non-suitors.
Teams in the bidding have guessed the
Blue Jays
and
Rangers
would be among the highest bidders (according to CBSSports.com's Danny Knobler), based upon the respective scouts having been to see Darvish pitch so many times. Also, the general manager for each club went to Japan. The
Nationals
and
Cubs
are also said to be interested.
CBSSports.com' Jon Heyman says
the
Yankees
entered a "modest" bid for Darvish and are not expected to win.
Also, sources told Knobler that the Fighters were very impressed with how high the bid was. So brace yourselves.
Darvish, a 25-year-old right-hander, has been the ace of the Ham Fighters for several years. In 164 career starts, Darvish is 93-38 with a 1.99 ERA and 0.98 WHIP with just about one strikeout per inning pitched. He's also thrown 55 complete games and 18 shutouts. In 2011, Darvish went 18-6 with a 1.44 ERA, 0.83 WHIP and 276 strikeouts in 232 innings with 10 complete games and six shutouts.
For more baseball news, rumors and analysis, follow @EyeOnBaseball on Twitter, subscribe to the RSS feed and "like" us on Facebook.