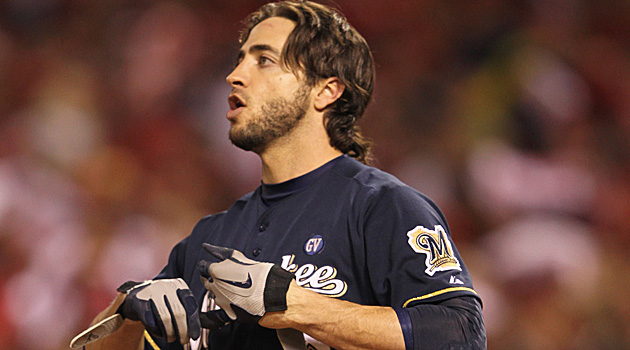 By Matt Snyder
By now, surely every baseball fan has heard about 2011 NL MVP
Ryan Braun
getting nailed for failing a performance-enhancing drug test. The 50-game suspension is pending an appeal, but in the meantime seemingly everyone is weighing in with opinions on the matter. Braun very recently got public, vocal support from a pair of MVP candidates.
Dodgers
center fielder
Matt Kemp
, who finished second in the NL MVP voting to Braun, would have won the award if the BBWAA decided to revote. Still, Kemp is supporting his friend.
"Nobody's proven anything man ... we don't know anything."
Kemp told TMZ.com
. "That's a good dude. That's my homie."
Also, fellow Milwaukee-area fan favorite -- and frontrunner for NFL MVP -- Green Bay Packers quarterback Aaron Rodgers voiced his support on ESPN Milwaukee radio (via
Sports Radio Interviews
).
"I was very surprised the news came out the way it did. You would think that there would be some sort of confidentiality surrounding the situation because he is appealing it. Other than that, I don't really want to comment a whole lot on the allegations or whatnot. I would say I 100 percent support Ryan and believe in him and it's not going to affect our friendship in the least. I'm 100 percent supporting him and behind him and believe in everything that he says."
And then Rodgers brought out the big guns:
"I've known Ryan for a while now and we've spent a lot of time hanging out. I've been in the locker room and I've seen him working out and stuff. It's just ridiculous the allegations. I think as much as he probably can't say a whole lot right now just the fact that he was willing to take a test right after that and I don't know exactly what all is out there but I just am trusting that my good friend has not been using anything illegal and I'm very confident that's the case because I know how much he cares about the integrity of the game and wouldn't do anything to jeopardize that."
It's going to be a while before we know how Braun's appeal comes out, but he seems to be getting lots of support from people close to him. That didn't seem to happen with, say, Roger Clemens or Manny Ramirez. Is it because Braun's a nicer guy with more friends or because he actually is innocent? We can't say just yet.
For more baseball news, rumors and analysis, follow @EyeOnBaseball on Twitter, subscribe to the RSS feed and "like" us on Facebook.