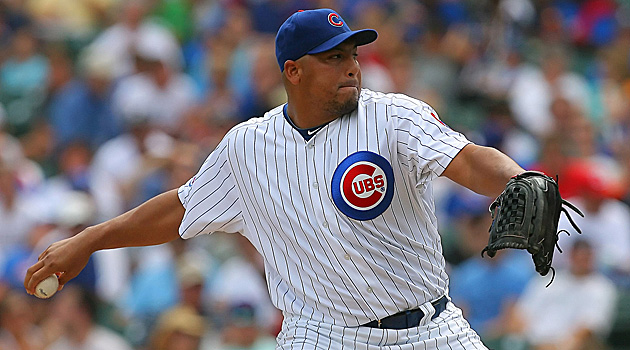 By Matt Snyder
Carlos Zambrano
has long been one of the most mercurial players in the bigs. We've all seen his meltdowns and heard his excuses afterward. This past summer, when he skipped out on his teammates and uttered some words about retirement, he was placed on the restricted list by the
Cubs
. The thought was that he'd never play for the Cubs again, but that's now looking like a possibility.
Zambrano recently told reporters he is -- for what, the seventh time? -- a new man. From
MLBTradeRumors.com
:
"I'm preparing like when I was a rookie, climbing mountains, running on the beach, and exercising hard so that I can arrive at Spring Training in optimal shape," he said, as relayed by Joiner Martinez at Líder en Deportes. "I want to stay in Chicago for the two seasons I still have with the team. I'm not a coward who would take the back door out of the majors."
Climbing mountains and running on the beach ... uh, has he been watching the Rocky movies as inspiration? I wonder what name he yells when he gets to the top of the mountain? Maybe Michael Barrett's.
And I'm not quite sure "coward" is the right choice of words there. Only a complete and utter fool would leave the $19 million on the table Zambrano is owed in 2012. The cowardly act would have been to storm out of the locker room and leave his teammates hanging. Oh, wait ...
For stretches, when Zambrano could remain healthy and sane, he produced as a frontline starting pitcher. He's a three-time All-Star who finished exactly fifth three times in NL Cy Young voting. After anger management sessions midseason in 2010, he closed the season in lights-out fashion, going 8-0 with a 1.24 ERA. But then Bad Z showed his face again in 2011 and it looked like the Cubs had seen enough. Then-general manager Jim Hendry basically kicked Zambrano off the team.
The problem, of course, is that Hendry also inked Zambrano to a huge contract -- five years, $91.5 million -- that began before the 2008 season. The second season Zambrano mentioned in the above quote, where he said he wants to stay in Chicago for two seasons? Good luck with that. There's a vesting option for 2013 that is guaranteed if Zambrano finishes in the top four of Cy Young voting this coming season.
It does seem that he'll at least get his chance, though. New Cubs president Theo Epstein and general manager Jed Hoyer are giving every indication Zambrano is allowed back as long as he's on his best behavior. History indicates that won't last very long, but there's no reason to not give him a fresh start for a fresh administration, considering that untradeable contract.
One thing is for sure, the conclusion of Zambrano's time in Chicago is not going to be boring.
For more baseball news, rumors and analysis, follow @EyeOnBaseball on Twitter, subscribe to the RSS feed and "like" us on Facebook.