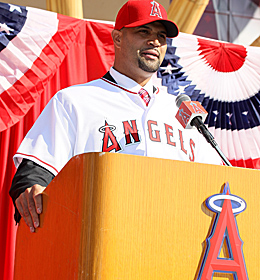 By Matt Snyder
Albert Pujols
signed with the
Angels
last week in a move that shocked the baseball world. We knew that. But his wife, Deidre (or "Dee Dee") says the people don't know the reality of the situation -- which is that the
Cardinals
' offer didn't come anywhere close to what has been reported, because it was only for five years. From the
St. Louis Post-Dispatch
:
"What I'm saying is it wasn't a guaranteed situation," she said. "When you have somebody say, 'We want you to be a Cardinal for life' and only offer you a five-year deal ... it kind of confused us. ...

"Well, we got over that insult and felt like Albert had given so much of himself to baseball and into the community that he at least deserved the opportunity to have real life-long -- you know, I tell you what -- we didn't want to go through this again. Free agency, it's stressful."
The Post-Dispatch has reported that the Cardinals' initial offer -- what Dee Dee called an "insult" -- was for five years and $130 million. Of course, the Post-Dispatch is
also
reporting the offer grew to 10 years and $210 through the course of the negotiations -- which was widely reported during the Winter Meetings last week. On the flip-side, they also report that there was a "significant" portion of the deal in deferred, interest-free, money. So while Mrs. Pujols can say this move wasn't about the money, it's pretty evident it was very much about the money (Pujols signed for 10 years, $254 million and none of that is deferred). Not that I'm blaming them one bit, as $44 million is quite a chunk of change to think about turning down.
Deidre also mentioned that she was surprised Cardinals fans turned on Pujols so quickly upon the news of him signing to play elsewhere. I guess she didn't watch The Decision, huh?
In fairness, we must point out that Mrs. Pujols did say, "we still love St. Louis and always will."
Still, it was 20 minutes of justifications on a radio show in an argument she can't win. With Pujols signing, the fans of St. Louis are going to be angry, and nothing she can say will change that. This goes for free agents leaving places for more money in every sport.
The full interview is available on via Joy FM's website
.
For more baseball news, rumors and analysis, follow @EyeOnBaseball on Twitter or subscribe to the RSS feed.