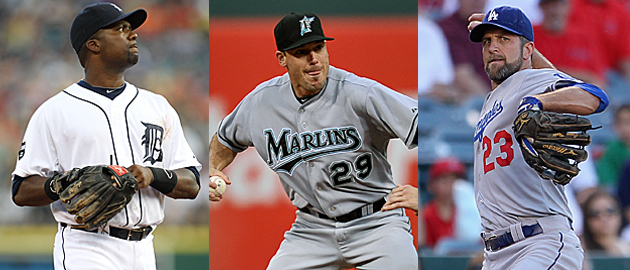 By Matt Snyder
Say what you will about
Aramis Ramirez
-- as many fans seem to have an extreme dislike of him for some reason -- but he was the only starting-caliber third baseman available this offseason.
No,
Michael Cuddyer
doesn't fit as an everyday third baseman. He played 14 games there in 2010 and zero last season. So he's not included in this discussion and it would be a huge reach to try and claim he is.
The best remaining free agent third baseman is
Wilson Betemit
. He is a pretty good hitter and is versatile, but he hasn't played in more than 97 games since 2007. And there's a reason he's played for six teams in nine seasons -- he's just not an everyday player.
The other free agent third baseman? Yuck.
Casey Blake
,
Eric Chavez
,
Greg Dobbs
,
Kevin Kouzmanoff
,
Omar Vizquel
, Bill Hall, Jorge Cantu, Andy LaRoche and
Alex Cora
.
It's possible the
Phillies
trade
Placido Polanco
, as he's been mentioned in some light rumors, but would it really be a great idea to deal for a 35-year-old who had back issues last season? He's definitely in decline and has very little power.
So unless the
Mets
shock everyone and put
David Wright
up for sale, it would appear the guy currently atop the depth chart at third base for all 30 teams will remain there until opening day. The
Tigers
are probably stuck with
Brandon Inge
-- and maybe they just bring back Betemit and stick with the same situation as late last season. The
Rockies
will need to use internal options. The
Marlins
need to convince
Hanley Ramirez
he's happy at the hot corner. The
Angels
have to go with
Alberto Callaspo
or move
Mark Trumbo
across the diamond like they've discussed. And, yes, the Phillies are probably stuck with Polanco.
Put simply, the third base market this offseason consisted of one important name. And that name is now on a contract given by the Milwaukee Brewers.
For more baseball news, rumors and analysis, follow @EyeOnBaseball on Twitter or subscribe to the RSS feed.