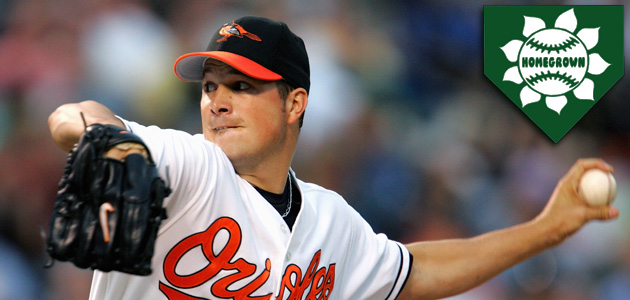 By C. Trent Rosecrans
What if players were only permitted to stay with the team that originally made them a professional? No trades, no Rule-5 Draft, no minor or major league free agency ... once you are a professional baseball player, you stay in that organization. This series shows how all 30 teams would look. We give you: Homegrown teams.
To view the schedule/past entries of this feature, click here.
The
Orioles
haven't had a winning season since 1997, and part of that has been the team's inability to draft, sign and cultivate its own players. Even the teams with the biggest payrolls, like the
Yankees
and
Red Sox
, have learned the lesson that you need to have a steady crop of homegrown players, not only to keep costs down, but also to have the commodities to trade if needed. The Orioles'
Matt Wieters
emerged as an All-Star in 2011 and
Brian Roberts
has had a solid career, but the team has still struggled to produce a consistent pipeline to the majors, and when those players have gotten there, they've often disappointed.
Lineup
1. Brian Roberts, 2B
2.
Mike Fontenot
, SS
3.
Nick Markakis
, RF
4.
Jayson Werth
, 1B
5. Matt Wieters, C
6.
Nolan Reimold
, LF
7.
Jerry Hairston
Jr., 3B
8.
Willie Harris
, DH
9.
Darnell McDonald
, CF
Starting Rotation
1.
Erik Bedard
2.
Zach Britton
3.
Jake Arrieta
4.
Brad Bergesen
5.
Brian Matusz
Bullpen
Closer -
David Hernandez
Set up -
Arthur Rhodes
,
Jim Johnson
,
Koji Uehara
,
Jason Berken
,
Pedro Beato
,
D.J. Carrasco
Notable Bench Players
Eli Whiteside
is the backup catcher, and a pretty good one. But other than that, the Orioles' bench is thin.
Brandon Snyder
?
Ryan Adams
? That's about all the team has to offer.
What's Good?
The middle of the lineup -- Markakis, Werth and Wieters is solid and the bullpen is deep. Other than that? Not much.
What's Not?
Take your pick -- the rest of the team's lineup isn't up to snuff. The rotation, minus Bedard, is similar to the real team's rotation in 2011. And then there's not much depth, either in the rotation or the lineup.
Comparison to real 2011
Only the
Astros
,
Twins
and
Mariners
had a worse record than Baltimore's 67-95 mark in 2011, and this team could be even worse. The rotation is about the same and the offense isn't as good without
J.J. Hardy
,
Adam Jones
and
Mark Reynolds
. The Orioles once were known for throwing money at free agents and not developing their own players, now they just don't develop their own players. A team of homegrown Orioles could challenge the 100 loss mark and maybe even the worst record in baseball.
Next:
Washington
Nationals
For more baseball news, rumors and analysis, follow @eyeonbaseball on Twitter or subscribe to the RSS feed.