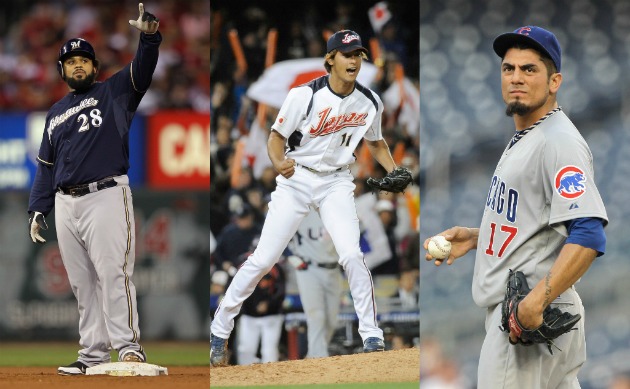 By C. Trent Rosecrans
A year ago the Rangers were crushed when Cliff Lee went to Philadelphia. This year they expected to lose C.J. Wilson, but the difference is the landing spot. Lee went to the National League, Wilson is staying in the American League West -- and joining Albert Pujols in Anaheim.
The Rangers will now step back and reassess where they stand in regards to their divisional rival.
"Our job just got more challenging," Rangers assistant general manager Thad Levine told CBSSports.com's Danny Knobler. "We just saw him seven games and I can't say we figured him out."
The question now is whether the Rangers try to counter with big moves of their own. It's still possible, despite the denials of team president Nolan Ryan, that the team goes after Prince Fielder. Ryan says the team is comfortable with Mitch Moreland at first base, but he said the same last year about Michael Young and third base before signing Adrian Beltre.
And then there's the rotation. As it stands now, the Rangers rotation is Derek Holland, Colby Lewis, Alexi Ogando, Matt Harrison and Neftali Feliz. That's not bad, but it's not the Angels' rotation.
Feliz -- like Wilson and Ogando before him -- is being moved from the bullpen to the rotation. It's worked well enough before for the Rangers, so this could work. Feliz came up in the minors as a starter, starting 27 games in 2008 and 13 in 2009, the last time he started. The Rangers also signed Joe Nathan to make sure they had an experienced closer to fill his shoes.
Another possibility is moving Scott Feldman back to the rotation. The 28-year-old right-hander started two games in 2011 and has 80 career starts under his belt. Feldman won 17 games in 2009 and is 29-28 with a 4.69 ERA in his career as a starter, striking out 4.8 batters per nine innings, down from the 5.6 strikeouts per nine as a reliever.
Texas, though, could very well go outside of their organization to bolster their staff. General manager Jon Daniels scouted Yu Darvish in person this past season and the team has had success in Japan before with Lewis. Darvish, though, must go through the posting system, which is hardly a sure thing on a blind bid for the posting fee.
Another possibility is Matt Garza. The Cubs have let it be known they are open to trading anyone -- including the 28-year-old right-hander is arbitration-eligible and will be a free agent after the 2013 season. Garza went 10-10 with a 3.32 ERA in his first year in Chicago. The Rangers are talking to the Cubs about a deal for Garza, who would help their rotation.
Roy Oswalt is also a free agent and could be a fallback option.
The Angels shocked the baseball world on Thursday, the Rangers were among them. But the Rangers are unlikely to sit still and will certainly be worth watching going forward.
For more baseball news, rumors and analysis, follow @eyeonbaseball on Twitter or subscribe to the RSS feed.