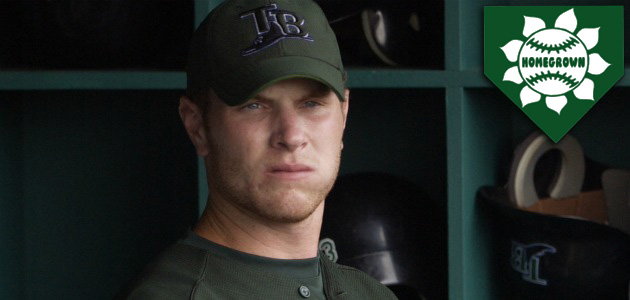 By C. Trent Rosecrans
What if players were only permitted to stay with the team that originally made them a professional? No trades, no Rule-5 Draft, no minor or major league free agency ... once you are a professional baseball player, you stay in that organization. This series shows how all 30 teams would look. We give you: Homegrown teams.
To view the schedule/past entries of this feature, click here.
No team has had as much success drafting and developing its players like the Tampa Bay
Rays
. The one-time laughingstock of MLB is a model franchise to even the biggest spenders. The Rays have had big name leave, but keep replacing them with younger, seemingly better players. A year ago, the Rays lost
Carl Crawford
because they could no longer afford him. By the end of the season, Crawford and the
Red Sox
were sitting at home while the Rays were in the playoffs -- again. The reason is because they grown enough crops on the farm to have a successful harvest nearly every fall.
Lineup
1. Carl Crawford, LF
2.
Desmond Jennings
, RF
3.
Evan Longoria
, 3B
4.
Josh Hamilton
, DH
5.
B.J. Upton
, CF
6.
Aubrey Huff
, 1B
7.
Reid Brignac
, 2B
8.
John Jaso
, C
9.
Elliot Johnson
, SS
Starting Rotation
1.
David Price
2.
James Shields
3.
Jeremy Hellickson
4.
Wade Davis
5.
Jeff Niemann
Bullpen
Closer -
Dan Wheeler
Set up -
Matt Moore
,
Andy Sonnanstine
,
Alex Cobb
,
Jake McGee
,
Jason Hammel
,
Jose Veras
Notable Bench Players
The Rays have a couple of decent bats off the bench in
Delmon Young
,
Matt Diaz
,
Jonny Gomes
and Jorge Cantu.
What's Good?
Crawford and Hamilton to go along with Longoria, Upton and Jennings? That helps, that's for sure. The rotation is exactly the same -- and that's a good thing. You've also got Moore sitting there. The starters are an embarrassment of riches. It's one of the main reasons the Rays can still compete in the AL East with a smaller payroll.
What's Not?
The bottom half of the lineup isn't great -- especially with Johnson at short. But there's enough help at the top of the lineup to make up for the bottom. The bench isn't deep defensively, but it's the American League so you don't need quite as much as you do in the National League. The bullpen isn't full of experienced relievers, but there are some quality arms that can switch from starting to relieving.
Comparison to real 2011
The same pitching staff plus Crawford and Hamilton make up for losing some of its Frankenstein bullpen and
Johnny Damon
. I put Hamilton at DH to try to save some wear and tear on his body, he can still play in the field every once in a while and give Jennings a day off and have someone like Young DH. Or Young can play in the outfield. The bullpen might be the most interesting question, but I think the offense and the starting pitching are enough to improve, if slightly, on the team's 91-71 finish.
Next:
Philadelphia
Phillies
For more baseball news, rumors and analysis, follow @eyeonbaseball on Twitter or subscribe to the RSS feed.