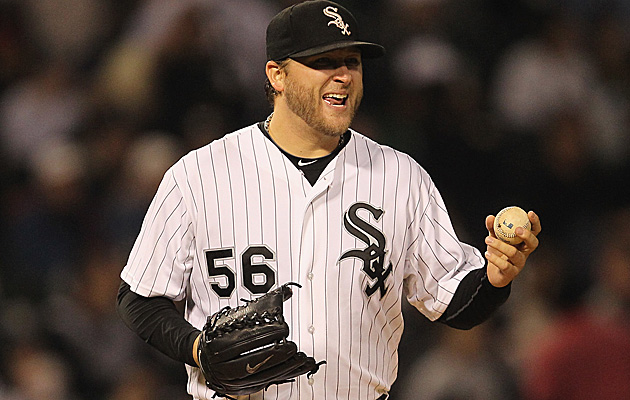 By Matt Snyder
DALLAS -- The Miami
Marlins
are
dead
serious. After signing both
Jose Reyes
and
Heath Bell
, they've added a third All-Star via free agency. Starting pitcher
Mark Buehrle
has been signed to a four-year, $58 million contract by the Marlins, CBSSports.com's Danny Knobler has confirmed. The news was first reported by Ken Rosenthal of Fox Sports. This means the Marlins have now spent a total of $191 million on Reyes, Bell and Buehrle combined.
Buehrle rejoins manager Ozzie Guillen, who managed him with the
White Sox
from 2004 to late last season. The story broke during Guillen's session with the media.
"I'm very happy to have that kid," Guillen said. "He's one of my favorite players. We have what we want [in Reyes, Bell and Buehrle]. Now how about three more? Let's shoot for the moon, just in case."
"Buehrle is an unbelievable family kid."
Buehrle, 32, had previously played all 12 of his big-league seasons with the White Sox. He'll now head to South Beach and serve as the number two pitcher behind
Josh Johnson
-- assuming Johnson is healthy. Buehrle was 13-9 with a 3.59 ERA and 1.30 WHIP last season. He also won his third consecutive Gold Glove. He's a four-time All-Star, last making the game in 2009. Also of importance, Buehrle brings championship ring credibility to Miami, having won with the White Sox in 2005.
"He pitched in the big scenarios, big moments, very tough city to pitch," Guillen said. "When people love you in Chicago, that means something."
Buehrle's biggest value lies in his durability. In the past 11 seasons, he has never made fewer than 30 starts or thrown fewer than 201 innings. And keep in mind, he's been pitching in the American League. Against NL teams during interleague play, Buehrle has a career record of 24-6 with a 3.32 ERA and 1.20 WHIP in 271 innings.
"Him moving from the American League to the National League, it's a big step for us," Guillen said.
Also, we don't yet know how the new Marlins ballpark will play in terms of hitter- or pitcher-friendly, but we do know how Chicago's U.S. Cellular Park played. It's been one of the most hitter-friendly stadiums for years.
The Marlins now have a strong top four in Johnson, Buehrle,
Anibal Sanchez
and
Ricky Nolasco
, assuming none of them are traded (Nolasco's name has been in rumors this offseason). And, amazingly, Knobler is hearing the
Marlins are still in the bidding
for
C.J. Wilson
.
If you think about it, there's some sense in that. Remember, the Marlins were reportedly hot after first baseman
Albert Pujols
, reportedly offering up to $220 million. They are now out of the Pujols sweepstakes,
says Scott Miller of CBSSports.com
. If they were planning on spending that much money, giving $58 million to Buehrle means they should still have more money they were planning on spending. It would seem that Pujols is no longer a possibility, but Wilson can fit within that budget.
Prince Fielder
? Maybe. Who knows at this point.
The only thing we know is that, yes, the Marlins are very serious about
transforming into a large-market team
-- now that they have their new stadium.
For more baseball news, rumors and analysis, follow @EyeOnBaseball on Twitter or subscribe to the RSS feed.