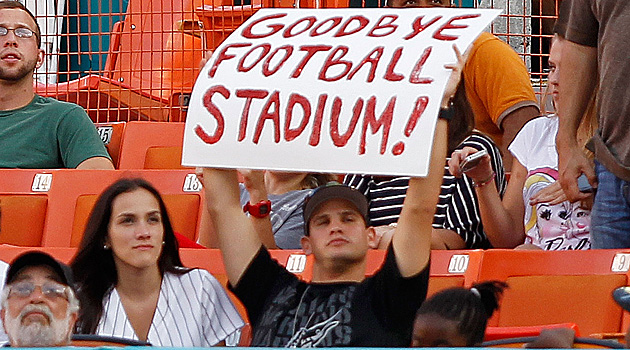 By Matt Snyder
DALLAS -- Remember back when the
Marlins
pushed their chips to the center of the table, going large for free agents and eventually winning the 1997 World Series?
Remember the following season, when the Marlins decided they couldn't afford the high-priced talent and went firesale, leading to a 108-loss season -- the most losses ever for a team coming off a World Series championship?
Of course you do. That's why it's easy to see the reactions to the Marlins signing
Heath Bell
and
Jose Reyes
(and maybe a few more big names).
It won't last. This is window dressing. They'll be having another firesale in two years.
I'm not so sure. Granted, it's entirely possible. After all, if the attendance continues to be lackluster, the Marlins can't afford to operate at the level they're hoping to reach. But there are two reasons to believe this time around it's actually legitimate.
1. Market size.
The Marlins don't play in Omaha or Albuquerque or Boise or Raleigh. There's nothing wrong with those places, but they are small markets. The Miami metropolitan area is not a small market. According to the 2010 U.S. Census, the Miami-Fort Lauderdale-Pompano Beach metro area population is surpassed by only seven other metro areas: New York, Los Angeles, Chicago, Dallas, Philadelphia, Houston and Washington/Baltimore. And four of those seven areas share two ballclubs. Notice Boston, Detroit, San Francisco/Oakland, Minneapolis, Phoenix and St. Louis -- among many others -- are behind the Miami area. So this is absolutely an area with the tools to sustain a successful large-market baseball team.
2. The new stadium.
Last time the Marlins went on a spending spree, there was no new stadium anywhere on the horizon. Owner Wayne Huizenga declared his intent to sell the team before the World Series run. There just wasn't enough revenue coming in to maintain one of the higher payrolls in baseball. Hence the 1998 firesale.
Now, here is the big question: Will the new stadium and new signings be enough to keep fanfare steady throughout the entire season and for seasons to come? We don't know the answer to that. If the Marlins average 30,000 fans per game -- as management believes they will -- they will become a large-market team for the long haul. It will be difficult to start thinking in that mindset, but that's the truth.
Of course, if attendance can't survive the initial expected bump in 2011 and dwindles back down to around 20,000 fans per game, having a payroll in nine figures simply isn't realistic. In that case, we'd be liable to see another firesale.
So what'll it be? Small-market or large-market Marlins? Time will tell. But it's at least interesting to imagine the latter. And it's finally realistic, too.
For more baseball news, rumors and analysis, follow @EyeOnBaseball on Twitter or subscribe to the RSS feed.