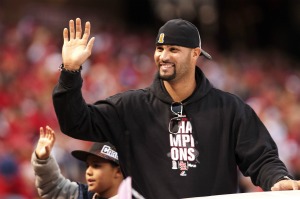 By C. Trent Rosecrans
The Marlins' signing of Jose Reyes was hardly a shock -- it appeared from the start they'd offer him the largest contract, they did and now he'll be modeling the new Miami uniforms. But the Marlins may not be done, as ESPN.com's Jayson Stark reports the team is expected to make "an aggressive run at (Albert) Pujols."
Pujols has already visited Miami, but the offer he received was reportedly less than the nine-year, $198-million offer the Cardinals offered Pujols last winter. However, the Marlins increased their initial offer to Reyes and could do the same for Pujols.
According to Stark, the way the Marlins' $106 million deal is structured, the team could still afford to add Pujols or another top free agent. The Marlins are scheduled to meet with Pujols' agent Dan Lozano on Monday or Tuesday. The Cardinals are scheduled to meet with Lozano on Monday in Dallas.
Another team that could have an interest in Pujols is the Cubs, CBSSports.com senior writer Danny Knobler tweeted. Other teams seem to believe the Cubs are interested in signing the first baseman, but would dangle a shorter contract with a higher average salary than what the Cardinals are offering.
For more baseball news, rumors and analysis, follow @eyeonbaseball on Twitter or subscribe to the RSS feed.