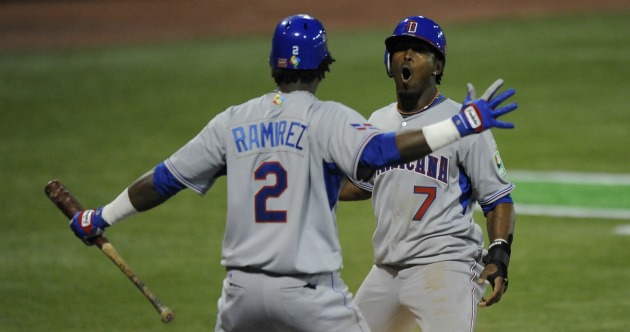 By C. Trent Rosecrans
The winter meetings haven't officially started and the Marlins already seem to have locked up the Hot Stove League title with the signings of Jose Reyes and Heath Bell -- and they could add more.
So what does this mean to the product on the field come April? Well, the rotation may still need some tinkering, but the lineup -- assuming everyone is healthy -- appears stout.
With Reyes, let's look at the new-look Miami Marlins lineup:

1. Jose Reyes, SS
When healthy, Reyes is the best leadoff hitter in the game, and one of the few real difference-makers in the top spot of the lineup. Reyes has a career .341 OBP and 370 stolen bases -- good for eighth among active players, with only one of the other players ahead of him on the list in his 20s, like the 28-year-old Reyes. Reyes is coming off his first career batting title, hitting .337/.384/.493 in 2011 and also led the league in triples (16) for the fourth time in his career. The knock on Reyes, though, is his ability to stay on the field. After playing in at least 153 games from 2005-2008, he played in just 36 games in 2009, 133 in 2010 and 126 last season. But when healthy, few in the game are as good as he is.

2. Omar Infante, 2B
While Infante didn't return to his All-Star form from a year before in 2011, he's a steady second baseman, if not exactly Dan Uggla. Infante hit .276/.315/.382 and led the league with 17 sacrifices if you're into that kind of thing. He has a career .318 OBP, but had a .353 OBP from 2008-2010 with the Braves. He's a solid No. 2 batter, especially sandwiched between Reyes and Hanley Ramirez.

3. Hanley Ramirez, 3B
Ramirez will have to move to third to make room for Reyes, something he's been reluctant to do -- but it's probably best for him and the Marlins. At 6-foot-3, 230 pounds, he's physically more of a third baseman than a shortstop and the team's defense should benefit from the switch. The Marlins had been in the market for a third baseman and all of a sudden they have one with a .306/.380/.506 career split with 134 home runs in six seasons -- and will be just 28 when the season starts. With Reyes and Ramirez, the Marlins now have batting champs from two of the last three seasons in their lineup.

4. Mike Stanton, RF
Perhaps the most exciting young player in the game, Stanton hit 34 home runs last season in his first full season, while hitting an impressive .262/.356/.537 overall. In an era where there seems to be fewer young power hitters, Stanton has it in spades. He's also proven to be an outstanding defensive outfielder and is under team control for several more years.

5. Logan Morrison, LF
Morrison, 24 had a disappointing sophomore season, even finding himself sent to Triple-A in August. Even with the trip to the minors, he put up a .247/.330/.468 line with 23 home runs and 72 RBI. That's not ideal, but it's not bad for a 23-year-old in his second season in the majors, especially one that put up a .283/.390/.447 line as a rookie. He was also much better in the first half, hitting .267/.343/.489. The talent is there and he should get better.

6. Gaby Sanchez, 1B
Sanchez was lost in the monster National League rookie class of 2010, but still put together a solid rookie season and pretty much equaled it in his second season, hitting .266/.352/.427 with 19 home runs in 2011. Sanchez is 28, the same age as Reyes and Ramirez, but with much less experience.

7. Emilio Bonifacio, CF
A switch-hitter, the speedy Bonifacio played all three outfield spots, as well as second, shortstop and third last season for the Marlins, but the team's biggest need now is center field, and he can stick there now that he doesn't need to fill in at any point for Ramirez at short. Bonifacio put up a .296/.360/.393 line last season and stole 40 bases. The team also has former Rookie of the Year Chris Coghlan, who started 64 games in center last season, but struggled, hitting just .230/.296/.368 and is expected to start next season in Triple-A.

8. John Buck, C
The oldest player in this lineup, Buck is just 31. While not an offensive superstar, he's a solid catcher and did put up a .316 OBP last season and hit 16 home runs. He also hit 20 homers in 2010 for the Blue Jays.
That's a pretty good lineup, and also a young one -- only Buck and Infante will be 30 or older at the start of next season. That said, the Marlins may not be done. Jayson Stark of ESPN.com reports Miami is expected to make "an aggressive run" at Albert Pujols. As good as the Marlins' lineup looks now, that could push it into a different stratosphere. Even without Pujols, that thing in center field could get a workout at the Marlins' new park.
For more baseball news, rumors and analysis, follow @eyeonbaseball on Twitter or subscribe to the RSS feed.