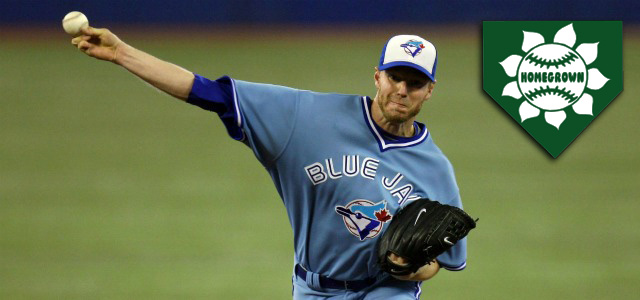 By C. Trent Rosecrans
What if players were only permitted to stay with the team that originally made them a professional? No trades, no Rule-5 Draft, no minor or major league free agency ... once you are a professional baseball player, you stay in that organization. This series shows how all 30 teams would look. We give you: Homegrown teams.
To view the schedule/past entries of this feature, click here.
The American League East is the biggest, baddest division in baseball -- in large part because of the deep pockets of the
Yankees
and
Red Sox
, but also because of the drafting and development from the
Rays
. Somewhere in the middle is the
Blue Jays
, a team that could be a giant in maybe any other division in baseball. In our exercise, the Blue Jays have an argument as one of the best teams in baseball, largely because of a stout rotation.
Lineup
1.
Reed Johnson
, CF
2.
Aaron Hill
, 2B
3.
Michael Young
, 1B
4.
Adam Lind
, DH
5.
Vernon Wells
, LF
6.
Alex Rios
, RF
7.
Ryan Roberts
3B
8.
J.P. Arencibia
, C
9.
Cesar Izturis
, SS
Starting Rotation
1.
Roy Halladay
2.
Chris Carpenter
3.
Ricky Romero
4.
Shaun Marcum
5.
Alfredo Aceves
Bullpen
Closer -
Brandon League
Set up -
Marc Rzepczynski
,
Tim Collins
,
Brandon Lyon
,
Dustin McGowan
,
Casey Janssen
Long -
Jesse Litsch
Notable Bench Players
Orlando Hudson
, Felipe Lopez,
Casey Blake
,
Travis Snider
,
Eric Thames
.
What's Good?
That rotation, are you kidding?
What's Not?
There's Rios and Wells -- two of the most overpaid players in the game. Those two are not just overpaid, they're also not very good. Eric Thames could step in for either one. There are some decent players on the bench, but not a lot of pop.
Comparison to real 2011
The 81-81 season was seen as a step forward for the Blue Jays in 2011, but with this lineup the expectations would be much, much higher. The rotation alone makes this team the favorite in the AL East in our hypothetical. The offense lacks the impact of
Jose Bautista
, but there's enough to support the pitching staff. Not only is this team better than the real Blue Jays, they have a shot at winning it all.
Next:
Colorado
Rockies
For more baseball news, rumors and analysis, follow @eyeonbaseball on Twitter or subscribe to the RSS feed.