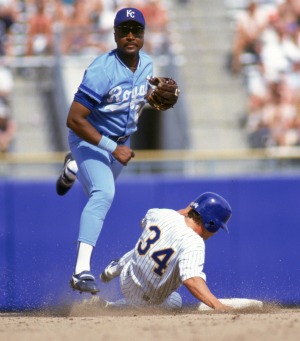 By C. Trent Rosecrans
Around the country, most think of George Brett when they think of Royals greats and it doesn't go much beyond that. In Kansas City, though, there's another name in the pantheon -- Frank White. The long-time second baseman of the Royals is, along with Brett, the only former Royal player to have his number retired and to have a statue at Kauffman Stadium.
The Royals fired White, a Kansas City native, from their TV crew on Friday. A disappointed White told the Kansas City Star he was done with the team.
"I'm done with the Royals," White told the Star's Sam Mellinger. "In all aspects. I'm tired. I've worked so hard to build my reputation and prove to them that I was loyal."
How loyal has White been? You can call Yankee Stadium "the House that Ruth Built" but Kauffman Stadium is literally the house that White built, as White served on the construction crew of what became the Truman Sports Complex that houses Kauffman Stadium and the Chiefs' Arrowhead Stadium.
White is also the greatest success story of the Royals Academy, a revolutionary program run by the team from 1971-75 to identify talented athletes and teach them the fundamentals of baseball. White, along with U.L. Washington, emerged from the academy and rewarded the Royals with one of the great careers in Kansas City history -- and one that's under appreciated by those outside Royal fandom. White was a five-time All-Star, eight-time Gold Glove winner, the 1980 ALCS MVP and the winner of a Silver Slugger. Beyond that, he spent five years on the Royals coaching staff and managed three years as the team's Double-A manager. In addition, he worked in the team's front office and the last three years as an analyst for Fox Sports Kansas City after being passed over for the manager's job that went to Trey Hillman.
Yahoo.com's Jeff Passan, who lives in Kansas City, tweeted that he was told the Royals fired White because the team thought he was too critical.
Over the last three years, the Royals have gone 203-283, leaving the team open to plenty of criticism. However, we're living in the age where many of the teams can control their message, with the team having final say in who broadcasts the games and sometimes who covers the game in other areas. If you have a business that you want people to frequent, you're not going to be too happy when much of the advertising for your product is negative. On the other hand, if you're hired to be an analyst, you have to tell it like you see it -- good and bad -- to do any less kills credibility and questions the intelligence of viewers.
The Royals are not only insulting their viewers by shutting down a voice that's only describing what he's seeing on the field, they're also insulting their own history. There's little chance the Royals will win in this PR battle, as White respected and loved in Kansas City. On a personal note, I don't have many autographs, but my office does have a Frank White baseball, so I'm probably biased in this case. White deserves better, even if they want him off the broadcasts, do it quietly and offer him another job in the organization, don't fire him and kick him to the curb. That's not how you treat an icon.
"I'm not pissed off," White told Mellinger. "It's just time for this crap to end. Maybe it's just time. People keep saying, you're 'Frank White, you've got a statue.' That don't mean a damn thing to them. Not a damn thing."
It should.
For more baseball news, rumors and analysis, follow @eyeonbaseball on Twitter or subscribe to the RSS feed.