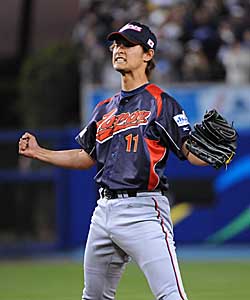 By Matt Snyder
Japanese pitching phenom Yu Darvish would be a hot commodity in America if he decided to enter into Major League Baseball's posting system. Last week, Darvish's father said it was a
"50-50" chance that Darvish would post
. One major issue that might prevent Darvish from posting at this time is his pending divorce from actress Saeko. From USAToday.com:
Saeko, when asked about the divorce at an event promoting a book project last week, told reporters, "Well, hmm, there is still a ways to go."

Asked if she expected a resolution by the end of the year, Saeko said, "I do not know the answer to that either."
Now, if Darvish were to enter MLB via the posting system, let's say he lands a deal similar to what
Daisuke Matsuzaka
did. Dice-K signed for six years and $52 million. Wouldn't it remain in Saeko's best interests to prolong divorce proceedings until her hubby signed such a lucrative deal? On the flip side, wouldn't it be in Darvish's best interests to get the divorce finalized before signing such a big contract? Ah, the perils of marriage (yes, I'm married and yes, I'm saying that tongue-in-cheek).
Darvish, a 25-year-old right-hander, has been the ace of the Nippon Ham for several years. In 164 career starts, Darvish is 93-38 with a 1.99 ERA and 0.98 WHIP with just about one strikeout per inning pitched. He's also thrown 55 complete games and 18 shutouts. In 2011, Darvish went 18-6 with a 1.44 ERA, 0.83 WHIP and 276 strikeouts in 232 innings with 10 complete games and six shutouts.
For those unfamiliar, since Darvish is not yet an international free agent, he'd enter MLB through the posting system. That means that teams interested in signing him submit a secret dollar figure, with the amount they'd like to pay just for the right to negotiate with him. The team with the highest bid then pays Nippon that figure. Darvish doesn't get any of that, so the team then has to agree to terms on a contract with the pitcher, independent of the posting fee.
For more baseball news, rumors and analysis, follow @EyeOnBaseball on Twitter or subscribe to the RSS feed.