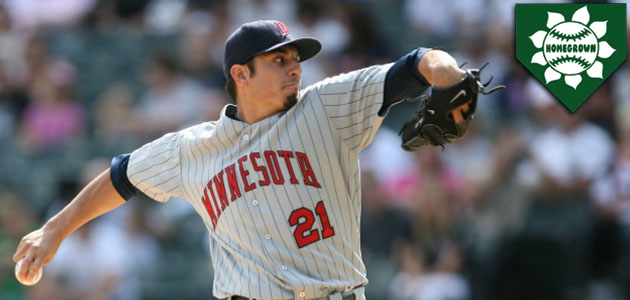 By C. Trent Rosecrans
What if players were only permitted to stay with the team that originally made them a professional? No trades, no Rule-5 Draft, no waivers, no minor- or major-league free agency ... once you are a professional baseball player, you stay in that organization. This series shows how all 30 teams would look. We give you: Homegrown teams.
For years, the Minnesota
Twins
were the model of how to build a consistent winner in a small market. From 2001-2010, the Twins appeared in the playoffs six times and recorded just one losing season. But the wheels fell off in 2011, with a mixture of bad fortune and bad pitching. The Twins have two former MVPs in their lineup, but it would be tough to find two former MVPs who did less in 2011 than
Justin Morneau
and
Joe Mauer
. Those two homegrown players were supposed to be cornerstones for the franchise, but their performance last season was more fitting a tombstone. The team's fortunes, for better or worse, will be tied to those two for the next few years.
Lineup
1.
Denard Span
, CF
2.
Michael Cuddyer
, 3B
3. Joe Mauer, 1B
4. Justin Morneau, DH
5.
Torii Hunter
, RF
6.
Jason Kubel
, LF
7.
Wilson Ramos
, C
8.
Danny Valencia
, 2B
9.
Tsuyoshi Nishioka
, SS
Starting Rotation
1.
Matt Garza
2.
Nick Blackburn
3.
Kevin Slowey
4.
Brian Duensing
5.
Anthony Swarzak
Bullpen
Closer -
Jesse Crain
Set up -
LaTroy Hawkins
,
J.C. Romero
, Pat Neshek,
Glen Perkins
,
Grant Balfour
,
Peter Moylan
Notable Bench Players
A.J. Pierzynski
,
Ben Revere
,
Luke Hughes
,
Trevor Plouffe
.
What's Good?
With Ramos and Pierzynski on the roster, there's zero reason for Mauer to get anywhere near catching gear -- unless it's for another commercial. With Mauer freed of pitching duties, he can concentrate on first base and Justin Morneau doesn't have to worry about playing in the field. Even though Morneau is a very good defensive first baseman, keeping him off the field could keep him on the field. Last year he suffered concussion-like symptoms after merely diving for a ball. Limiting his risks for a recurrence of head injuries should be a top priority for the Twins, and the easiest way to do that solves the team's other big problem, getting the most out of their long-term deal with Mauer. While the Twins don't have anyone on this list with a large number of saves on their resume, there are a ton of good relievers.
What's Not?
It's a good thing the team has good relievers, because they're going to need them -- and even more than the seven listed above. The rotation, after Garza, is shaky. That rotation isn't going to get much help from its defense, either. The roster makeup requires several position shuffles, including Cuddyer to third, a position he's played, but is not too keen on playing. The Twins also have to put Nishioka at shortstop. Although he played there some in 2011, the team signed
Jamey Carroll
to play shortstop every day in 2012 for a reason.
Comparison to real 2011
Well, if you thought it couldn't get much worse in Minnesota than it did in 2011, it may with this lineup and rotation. Minnesota went 63-99 in 2011, and it probably breaks the 100-loss barrier with this squad, but don't expect them to be historically bad, so it'd probably only cost four-to-eight wins in my unscientific research. Either way, it's an ugly summer in Minneapolis.
Up next:
Pittsburgh
Pirates
For more baseball news, rumors and analysis, follow @eyeonbaseball on Twitter or subscribe to the RSS feed.