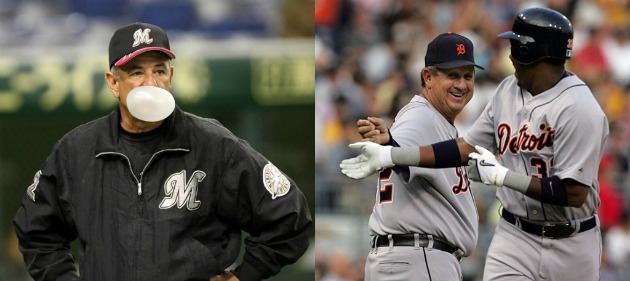 By C. Trent Rosecrans
The
Red Sox
may be down to Bobby Valentine and Gene Lamont as their next manager with an announcement coming next week, according to multiple reports out of Boston.
Both Valentine and Lamont have met with the Red Sox ownership group, while Toronto first base coach Torey Lovullo has not. Alex Speier of WEEI.com reports the team will do no more interviews, so it appears the team is down to the two.
Peter Abraham of the Boston Globe cites sources as saying Valentine is "really excited" about the possibility of managing the Red Sox -- and certainly the Boston media is really excited about covering the outspoken Valentine, probably more than Lamont, who is perceived to be more milquetoast than Valentine.
Lamont, easily the underdog, does have eight years of managing under his belt. The 64-year-old managed the White Sox from 1992-95, winning a division title and the Manager of the Year award in 1993. Lamont's White Sox were in first place in 1994 when MLB went on strike. He also managed the Pirates from 1997-2000, leading the Pirates to their best record (79-83 in 1997) during the franchise's current streak of 19 consecutive losing seasons. He's been on Jim Leyland's staff in Detroit since 2006.
Valentine is currently an announcer on ESPN and last managed in the big leagues in 2002. In 15 seasons with the Rangers and Mets, valentine has a 1,117-1,072 record, leading the Mets to the World Series in 2000. He also done two stints as a manager in Japan, winning the 2005 Japan Series with the Chiba Lotte Marines.
For more baseball news, rumors and analysis, follow @eyeonbaseball on Twitter or subscribe to the RSS feed.