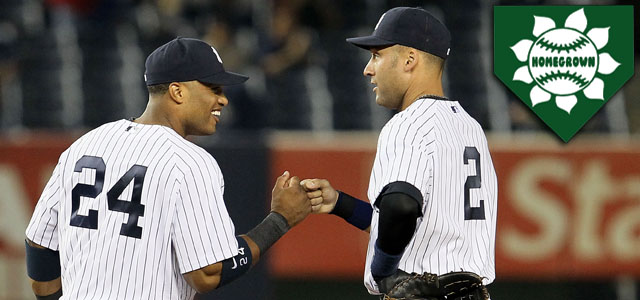 By Matt Snyder
What if players were only permitted to stay with the team that originally made them a professional? No trades, no Rule-5 Draft, no waivers, no minor- or major-league free agency ... once you are a professional baseball player, you stay in that organization. This series shows how all 30 teams would look. We give you: Homegrown teams.
It's late November. The awards have all been handed out. The Winter Meetings are in a few weeks. Pitchers and catchers don't report for almost three months. So it's the perfect time to kick off a fun little series. So we're starting the Homegrown series right now.
We have a landing page that will be filled out as we move forward with the feature -- on which you can see the exact date we'll be posting each individual team
.
What I love most about this series is that it has the potential to either enlighten or vindicate rabid fans in heated arguments. Large-market, big-spending teams are often attacked by opposing fans as simply trying to "buy championships" without having to develop their own talent. The biggest target is the
Yankees
, so what better team to start the series with?
The news is pretty good for the haters. You have been vindicated. This team would be ... well, you'll see.
Lineup
1.
Brett Gardner
, LF
2.
Derek Jeter
, SS
3.
Robinson Cano
, 2B
4.
Alfonso Soriano
, DH
5.
Jesus Montero
, 1B
6.
Melky Cabrera
, RF
7.
Austin Jackson
, CF
8.
Francisco Cervelli
, C
9.
Eduardo Nunez
, 3B
Starting Rotation
1.
Ian Kennedy
2.
Ivan Nova
3.
Phil Hughes
4.
Chien-Ming Wang
5.
Jeff Karstens
Bullpen
Closer -
Mariano Rivera
Set up -
John Axford
,
David Robertson
,
Tyler Clippard
,
Mark Melancon
,
Joba Chamberlain
Long -
Phil Coke
?
Jose Contreras
?
Notable Bench Players
Jorge Posada
, Dioner Navarro,
Juan Rivera
,
Jose Tabata
... and that's about it. Unless Marcus Thames and
Shelley Duncan
get you excited.
What's Good?
That bullpen is sick. It would easily be the best in baseball, with any lead past the fifth inning seemingly being safe in the hands of Clippard, Robertson, Axford and Rivera.
What's Not?
Anything else. Nothing is
horrible
, but the lineup, defense and rotation leave a lot to be desired. What's worse, there's really no depth in case of injuries. They'd have to turn to either Coke or a minor leaguer (
Dellin Betances
?) in the rotation -- or convince
Andy Pettitte
to come out of retirement -- and
Ramiro Pena
is the only backup infielder. There are plenty of backup outfielders, but Tabata's really the only one with upside.
Comparison to real 2011
Well, let's see. The 2011 Yankees won 97 games en route to a division title and the best record in the American League. This team is mediocre at best. The bullpen is awesome, but how many leads would there be to protect? 75? There is an MVP candidate in Cano, but having Soriano as protection isn't near as cushy as he's used to. Since this is the first team in our 30-team series, we won't reveal many other specifics, but I can tell you that this Yankees team would probably finish fourth in the AL East. Thus, it's much worse than reality. I have no way of measuring this, but I do think this team is better than many Yankee-hating fans would have guessed. Lots of those act like the Yankees have never developed anyone. This isn't an awful collection, it's just not good.
Now, it's absolutely worth noting the Yankees lost lots of draft picks as compensation for signing free agents, so that's why they don't have any depth. But let's just remember this is supposed to be a fun exercise for the offseason.
Up next:
San Diego
Padres
For more baseball news, rumors and analysis, follow @EyeOnBaseball on Twitter or subscribe to the RSS feed.