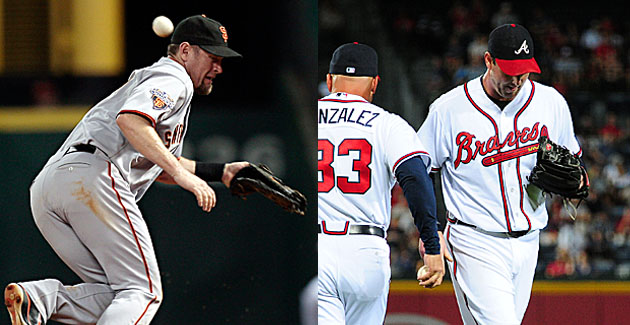 By Matt Snyder
With the announcement of the National League MVP coming Tuesday, we'll once again do the opposite and choose a least valuable player. Unlike the
AL version of this "award
," the candidates were not nearly as identifiable. I did narrow it down to five worthy contenders, so let's size 'em up.
Pedro Alvarez, Pirates.
The 24-year-old third baseman was supposed to be a power bat in the middle of the Pirates lineup for years to come. And he still might prove to be one in the future, but he was awful in 2011. Alvarez hit .191/.272/.289 with just four homers in 262 plate appearances. He even earned a demotion to Triple-A. He struck out 80 times and grounded into 11 double plays in just 235 at-bats.
Tyler Colvin, Cubs.
The 2006 first-round pick hit 20 home runs in 358 at-bats in 2010, but he was lost in 2011. Colvin hit .150/.204/.306 with six homers in 222 plate appearances. You can go after Mike Quade for not letting Colvin get regular playing time if you want, but how can you justify continuing to run a guy out there with a .204 on-base percentage?
Aubrey Huff, Giants.
Believe it or not, Huff finished seventh in MVP voting in 2010. Man, that seems like ages ago. In 2011, the Giants had the worst offense in the National League, and Huff has to shoulder some of that blame. Huff's raw stats don't look near as bad as those of Alvarez, Colvin or a litany of others, but his .246/.306/.370 line damaged a legitimate playoff threat. If he had a similar season to 2010, the entire complexion of the lineup changes.
Derek Lowe, Braves.
He made 34 starts and worked 187 innings, so that sounds like he had some value, at least in giving the Braves a healthy innings-eater. It's just that Lowe faltered when the Braves needed him the most. His overall season numbers -- 9-17, 5.05 ERA, 1.51 WHIP -- were bad enough, but Lowe was horrifying in September. He made five starts, going 0-5 with an 8.75 ERA and 1.99 WHIP. This was during a historic collapse. And Lowe made $15 million in 2011.
Brandon Lyon, Astros.
The closer set the tone for the Astros' abysmal 2011 season by blowing an opening-day save opportunity, allowing six hits and three runs to the
Phillies
. He would rack up as many blown saves as actual saves (four), which fit nicely with his 11.48 ERA and 2.40 WHIP. Still, Lyon only appeared in 15 games, due to injury, so he can't really win this one.
And the winner is ... Huff by a nose.
Ultimately, I believe Huff's shortfall from his 2010 numbers was more responsible for costing the Giants the playoffs than Lowe's campaign. Since Lowe is a starting pitcher and only goes once every five days, I feel like the Braves still could have overcome his shortcomings. But the Giants' offense was pitiful all season, and if Huff hit the ball better, it would have been an immense boost. I'd definitely be on board with anyone wanting to pick Lowe, though. This was a two-horse race.
For more baseball news, rumors and analysis, follow @EyeOnBaseball on Twitter or subscribe to the RSS feed.