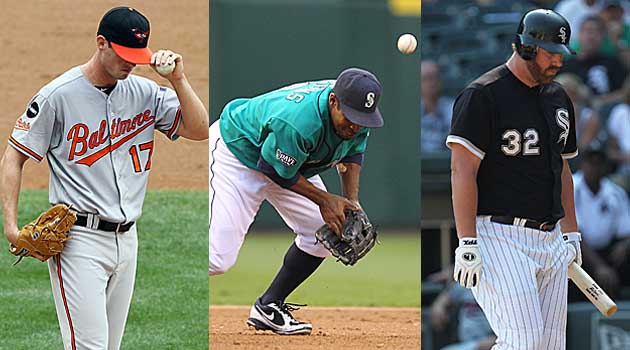 By Matt Snyder
The AL MVP is to be named Monday afternoon, amidst the usual sanctimony and outrage that accompanies close votes. Let's take a break from that and do something fun -- well, at least it's fun for those of us who aren't on this list.
Who was the least valuable player in the American League this season? Here are five very good candidates:
Adam Dunn, White Sox.
Pretty obvious choice here. Dunn killed fantasy owners, the White Sox lineup and turned his staunchest of defenders against him with one of the worst seasons in major-league history. His strikeouts (177) were more than his batting average percentage points (.159) -- marking only the second time in history that's ever happened to a player with at least 100 strikeouts (
Mark Reynolds
in 2010 was the other). After averaging 40 home runs in the previous
seven
seasons, Dunn only hit 11 in '11. Perhaps worst of all, Dunn's slugging percentage was a pathetic .277.
Chone Figgins, Mariners.
If he doesn't win, it's at least partially because Figgins only appeared in half of the Mariners' games. Because in his 81 games, he hit .188/.241/.243, good for an abysmal 39 OPS-plus. His defense was a negative value by most metrics and Figgins can't even steal bases well anymore, as he was caught six times against just 11 successful attempts.
Jeff Mathis, Angels.
We probably don't need to rub anymore salt in the wound for Angels fans by bringing up the
Mike Napoli
trade, so we'll just focus on Mathis himself. Defense aside -- which manager Mike Scioscia has insisted is good in the past but has been disputed by many sabermatricians -- Mathis is a brutal offensive player. He hit .174/.225/.259 in his 281 plate appearances.
Brian Matusz, Orioles.
The 2008 first-round draft pick still has good upside and battled injuries through parts of 2011, but that doesn't take away from how dreadful his performance was this past season. In 12 starts, Matusz was 1-9 with a 6.59 ERA and 2.11 WHIP while averaging just over four innings per start. So not only was he causing his team to lose games, he was taxing the bullpen, hurting the Orioles' chances in games he didn't even start.
Tsuyoshi Nishioka, Twins.
That three-year, $9.25 million deal wasn't enough to keep Nishioka's starting job. The Twins have already signed
Jamey Carroll
to be the everyday shortstop and will go with
Alexi Casilla
at second. This was due to Nishioka's awful 2011 season. Yes, he broke his leg in the first series and only played 68 games in 2011. When he did play, he hurt the Twins more than helped them. According to bWAR (
Wins Above Replacement on BaseballReference.com
), Nishioka had a negative defensive value. And that's pretty bad from a player hitting .226/.278/.249. Oh, and he stole two bases in six attempts.
And the winner is ... Dunn.
With all due to respect to the other guys, Dunn's season was historically futile and came on the heels of signing a four-year, $56 million contract.
For more baseball news, rumors and analysis, follow @EyeOnBaseball on Twitter or subscribe to the RSS feed.