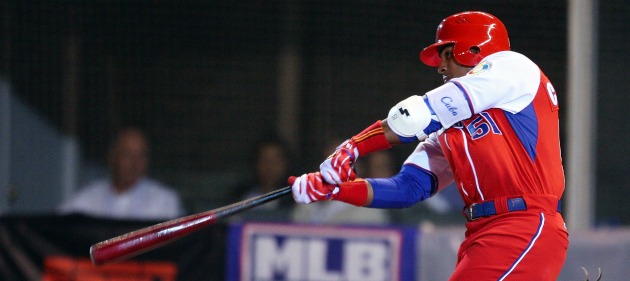 By C. Trent Rosecrans
We've all seen the awesome Yoennis Cespedes video by now (and if you haven't, make sure you watch it -- all 20 minutes to see the cooking segment at the end), but the question of when we'll see him holding up a major league uniform in a press conference is still in doubt. Because Cespedes is in the process of gaining residency in the Dominican Republic, he is not yet eligible to become a free agent until all the paperwork is done. That could be anywhere from two weeks to two months, Joe Frisaro of MLB.com reports.
The 26-year-old Cuban outfielder is drawing interest from the Marlins, Red Sox, Cubs and Yankees -- so needless to say he's going to cost a couple of bucks to sign. Frisaro writes Cepedes is looking for a deal that is double the $30.25 million the Reds gave Aroldis Chapman two years ago. However, he can't begin to negotiate with teams until he is officially ruled a free agent by Major League Baseball.
The Marlins have already held a private workout for Cespedes, with other teams scheduled to follow suit in the next couple of weeks.
Frisaro writes that the Marlins want Cespedes to play center field for them, while the Red Sox are looking at him in right field.
For more baseball news, rumors and analysis, follow @eyeonbaseball on Twitter or subscribe to the RSS feed.