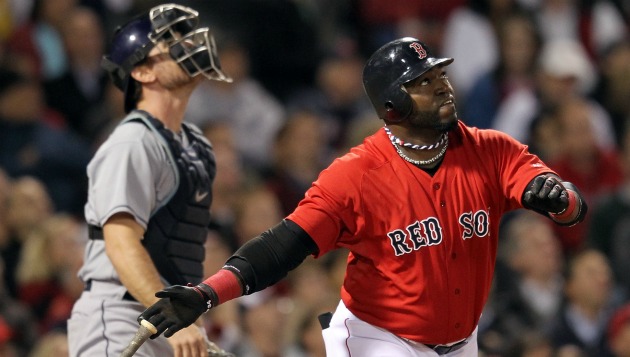 By C. Trent Rosecrans
The Red Sox want David Ortiz back, general manager Ben Cherington said on Friday. Speaking to reporters after Tony Lovullo's post-interview news conference, Cherington said the team is still talking to Ortiz's agents.
"Because of what I feel, and I think he feels, is a little more of a defended market for that role, it's been easier to engage sooner," Cherington said (via WEEI.com). "It's probably less likely to be a situation where he gets into the market and there's something the he's pushed into a corner on. David knows we want him to be here. We want him to be back with the Red Sox. We want him in our lineup. We've had a lot of dialogue to see if there's a way to do that and I think that will continue."
If the Red Sox want Ortiz back, they'll probably get him. The market for designated hitters isn't strong and Ortiz is the best one on the market. The only other place he may fit would be Toronto, but the Blue Jays re-signed Edwin Encarnacion and say he'll be something of a utility player for them, even if DH is his best spot.
As for the news that former closer Jonathan Papelbon had signed with the Phillies, Cherington said the team hadn't made an offer to keep him. Cherington also said the team's first priority may not be a starting pitcher -- more because of the available names rather than the team's need.
"There are options, probably not as strong as the bullpen, closer market, the way we see it," Cherington told the assembled reporters. "There are option, but riskier and would require some sort of bounce back from injury or bad luck or performance to some degree. We're going to exhaustive in looking at ways to build depth to the rotation and the bullpen. We do believe we have some internal options that will help us. But past the sort of top of the starters market, there's a lot of risk there."
For more baseball news, rumors and analysis, follow @eyeonbaseball on Twitter or subscribe to the RSS feed.